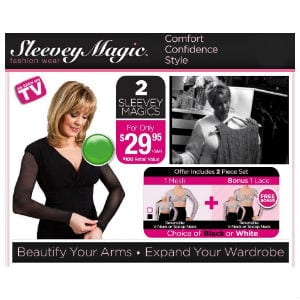 Sleevey Magic is a way to cover up flabby arms so that you don't have to feel self-conscious about them anymore. We've seen many of these shaping garments hitting the market, so let's see how these stack up to your other options.
Overview
The arms are one of the hardest parts of the body to keep looking good. Over time they tend to sag and have extra fat that hangs down. There's only so much you can do to keep gravity from having its way with your arms, and unless you are able to keep a workout regimen going, there's a likelihood that they'll end up sagging. At that point you may stop wearing tank tops and other blouses that reveal your upper arms.
The Claim
The makers of Sleevey Magic say that their product instantly gives you the look of toned and shapely arms, even if they're not. They say they're comfortable to wear, so you can feel confident and stylish in them. They also say that by making your arms look better, you'll be able to look good in more of the clothes you currently own, which virtually expands your wardrobe without you having to buy anything extra.
They say that the material they are using is super soft, but also stretchy, and uses compression technology to keep everything look sleek.
The Hype
Shapewear is big right now, and companies like Spanx are making a killing selling garments that make women look better in their favorite outfits. This trend should continue as more and more baby boomer women need help looking their best in their clothes and gravity keeps pressing down.
The Cost
Sleevy Magic is $48 and you end up with 2 reversible garments, one in mesh and one in lace. You have to choose whether you want this in black or white, because they will only send you two of the same color, there's no mixing and matching allowed. The original price of the item is $30 and there are two $8 shipping charges added on for the first item as well as the bonus item.
The Commitment
This is billed as being a way to get the look you want without having to resort to taking measures to fix the problem permanently. It's just a way to cover it up so that your arms don't look flabby so that you can wear the clothes in your wardrobe that you really want to wear but currently don't because you don't feel like you look good enough in them.
Evaluation
Sleevey Magic seems very well made, and they've done a good job of making a product that provides sleeves to outfits that otherwise don't have sleeves. We'd like to see this in a tan color so that it would be better at matching the skin color, but right now all that is available is black or white. These seem to draw attention to themselves unless you are wearing a black or white top. It would also be nice if they let you mix and match the colors, but as it stands you get two black or two white and not both in one order.
The pricing structure is also something that we'd like to see changed, because $18 of the order is shipping charges, so if you don't end up liking them you won't get that money back, and we're not even sure what the return policy is on these, as it's not listed at the official website. When you compare this offer to just buying shapewear straight up from a site like Spanx, it becomes clear that they Spanx and other big name places have a better set up because they have a clearly stated return policy and don't play games with the shipping charges.
Final Sleevey Magic Review
We're giving Sleevey Magic our Try rating based on how it fits and the price point. At $24 each it's pretty competitive and it has a distinct style that we haven't seen from renowned places like Spanx. It's also nice because it just focuses on the arms, so you don't have to get into some big body shaper if your arms are the only part of your body giving you trouble.
However, if you want other colors besides black or white of if you want to be able to return your product without a hassle, we'd have to recommend going with Spanx. They are a well oiled machine and are only getting bigger in size. They have several different offerings and styles for you to choose from, and are always expanding their product lines.
Our Recommendation
These are nice to have if there are black or white outfits in your closet that are going unworn because of the way you feel about your arms. If you have other colors or designs, the black one might be able to work with them.
What do you think? Does Sleevey Magic work or not?