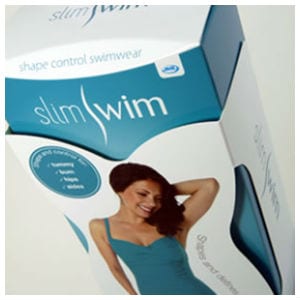 Slim Swim are bathing suits that are designed to help you out with trouble spots so that you can go to the beach or the pool and not worry so much about your appearance. But how well do these slimming suits work?
Overview
If you sometimes dread summer and the warmer months because it means heading to the beach or the pool and having to be seen in your bathing suit, this product may be for you. When it comes to getting into a swimsuit they've identified the things that the majority of women are conscious of, including the chest, the butt, the hips, and the stomach, and they've made provisions to provide help in each of these areas.
The Claim
The makers of Slim Swim claim you can have a beach ready body just by putting on their suits. They also say that you can go from saggy to sensational. They say it helps with some of the most common problems women experience with their bodies, including a sagging bosom, a big bottom, a protruding tummy, and wide hips. They say their suits help to cover, tighten, reduce, and build up, depending on what is needed in each given area.
The Hype
This is basically the marriage of bathing suits with slimming bodywear that is so popular right now. It's only fitting that with the success of Spanx and other companies. It's too far of a stretch to think that they've taken the technology of shaping garments and applied them to bathing suits. The problem they're describing is not exaggerated and plenty of women would rather skip trips to the beach or pool than showcase their bodies.
The Cost
Your order total comes to $48 and gets you one Slim Swim swimsuit and a cover wrap, but is not billed all at once. You pay $33 as your initial payment which includes $15 of the $30 product price plus $9 shipping for the suit, plus $9 shipping for the cover up. 30 days later you pay the remaining $15 balance. There's a 30 day money back guarantee, and they will also swap the suit out for you during that first 30 days if you chose the wrong size.
The Commitment
The point of using a slimming product like this is to instantly change your appearance without committing to a lifestyle change. But it's best to wear these types of garments alongside diet and exercise because that way you will get the permanent results you seek so that you can proud of your appearance even when you take off the slimming suit. Items like these can be helpful because they can give you a preview of what's to come.
Evaluation
This comes in regular and plus sizes so there's a good chance that you can find a size that fits you and helps you look slimmer. They have done their best to make this a swimsuit that you can easily fit into your budget so that you don't have to delay the purchase or make it a drawn out decision making process. You can buy it with just an initial $33 payment and try it out in the privacy of your own home. If you like it and want to keep it it's just an additional $15 payment a month later. Compare that to buying a bathing suit in person where you can't return it once you've bought it.
So the most you'll be out is $18 plus return shipping costs, which might sound like a lot to risk, but that's the worst case scenario because that means you just plain don't like it. If you still have trepidation in taking that risk, you might want to go with Miraclesuit because they have free returns.
Final Slim Swim Review
The Slim Swim is getting our Solid Try rating based on the price and the feedback it's been getting. If you can get over the fact that it only comes in one style and four colors, this might be an option for you. If you want more styles you may have to spend more at Spanx or Miraclesuit so that you can get something a bit more to your personal taste. But as far as a standard suit in solid colors that is designed to accentuate some of the most common problems, this is a good choice for a total cost of $48 broken up into two payments.
Our Recommendation
With slimming swimsuits from Spanx and Miraclesuit going for over $100 this may be a way to score one for far less, and get a wrap as well. Often with products like these it's all about getting the sizing right, so it might come down to picking the size that you think is best and then going through the exchange process once you're able to try it on and see how it fits.
What do you think? Does Slim Swim work or not?