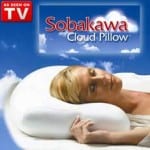 If you're tired of overheating with your current pillow and want something that doesn't retain the heat when you sleep, you probably took notice when the Sobakawa Cloud Pillow ad came on. It makes a pretty strong case on its effectiveness, and if you watch for too long you might find yourself dialing the number of visiting their website. But does it provide the kind of sleep experience they claim it does?
Overview
Buckwheat pillows are something that not many people are aware of, unless they've tried one before. When Sobakawa released their first model, they used Japan heavily in their product description. They stated that the Japanese have a theory about sleep that states that your extremities should be warm, and your head should be cool for proper sleep.
Sobawakwa pillows have been around for over a decade, and they keep upgrading their product and hoping that people will continue to follow the natural progression of their product line.
The Claim
The Sobakawa Cloud Pillow is stated to have hundreds of foam microbeads that contour to the shape of your head, all while providing the same kind of stay-cool feature that the traditional buckwheat hulls did.
The implicit claims, as judging by the infomercial, are that you won't toss and turn in your sleep any more, you won't have back pain, and your neck won't be in a knot any more, once you start using the Sobakawa Cloud pillow.
They also claim that the pillow is the result of 300 years of development. Although it's based on the "Asian buckwheat pillow" no buckwheat was harmed in the making of the pillow. It now uses what's known as "air beads" which are described as a "virtual sea of clouds".
The Cost
For $35 you can have it delivered to your door, complete with a pillow case that breathes or some such nonsense.
The Commitment
You don't have to do much but replace the pillow you currently use with your new Sobakawa Cloud pillow. Sleep like you normally would and you should see the difference in the quality of sleep that you get.
Evaluation
The Sobakawa Cloud Pillow stays cool and does adjust to your head. It's going to take some getting used to if you've never used a pillow like this. Your first night with it and you might wake up stiffer than usual, or toss and turn because it just doesn't feel right.
If you stick with it and don't toss it to the closet after a night or two, you probably won't want to part with it. Once you're used to the way it feels and the different sleeping positions that feel comfortable with it, you'll have better rest than usual.
Does Sobakawa Cloud Pillow Really Work?
Pillows are just one of the facets of sleep. It will give you a better pillow experience, but as far as living up to all of the claims in their advertisements, you might be disappointed. For example, if you have a lousy mattress, your new pillow isn't going to solve your problem. Likewise, if you have health conditions that cause you to wake up several times in the night, or something like sleep apnea where you stop breathing at certain points throughout the night, you won't find relief by changing pillows.
If you simply tired of a hot pillow you will definitely love the Sobakawa Cloud pillow. It definitely will keep you cool, and that can be great during the summer months when you don't feel like turning the air conditioning on just to sleep.
Our Recommendation
If you want a super comfy pillow and don't mind knowingly paying for it, then you should grab one.
Official Website: Sobakawa Cloud Pillow
What do you think? Does Sobakawa Cloud Pillow really work?