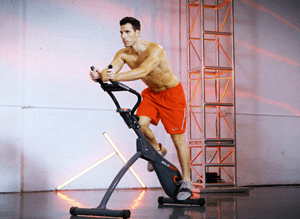 With so many people becoming health conscious today, there are many fitness products available on the market. Finding one like Solo Ryder that is reasonably priced and will give you the workout you need is essential.
Overview
Solo Ryder is a unique fitness apparatus which includes the plank, climb and bike activities.
The Claim
The claim about the Solo Ryder is that it is a perfect product for cardio workouts and will utilize every muscle to help burn fat.
The Hype
The hype about the Solo Ryder is that it engages your entire body for the perfect workout.
The Cost
There is currently a promotional 14-day trial offer on the Solo Ryder for $14.95 plus P&H fee of $19.99. This includes three free bonuses. Bonuses are Solo Ryder App, Fitness Tracker, and 7 Day Detox and Meal Plan. Total bonus value of $750. The actual cost of the Solo Ryder is $199.96 with free shipping at the end of the trial offer.
The Commitment
The commitment regarding the Solo Ryder is making sure you actually use it regularly once you have purchased it. Many people buy exercise equipment, use it for a week, and that's it. To achieve optimum results, you must use this apparatus regularly over a period of time. Follow the Detox program and Meal Plan along with your workout. Utilize the Solo Ryder App to discover many workout videos about this product.
Evaluation
The Solo Ryder along with its bonus features seems to be a great exercise program. It provides a cardio workout, muscle strengthening, and fat burning. It is a stand-up unit, in which you pedal. This gives your body an all-over workout. It increases your heart rate for cardio and fat burning, and works on your upper and lower body as well as your core. It can work your legs arms and core while engaging all your muscles at the same time. This unit has a tension control to adjust your workout, enabling you to start off slow and work your way up to more intense levels. The Solo Ryder can also be adjusted to a plank position which creates a more difficult workout that burns more fat.
Final Solo Ryder Review
We are going to give the Solo Ryder a thumbs up. This great exercise unit can conveniently fold up and be easily wheeled to store away when not in use. When folded up, it is a space saver. The great advantage to this entire body workout system is that you can combine exercise, try different video workouts with the app and detox, and follow a Meal Plan all at once. This will create the fitness level and body structure that you desire. We highly recommend the Solo Ryder. It is important for everyone to engage in physical activity for mind and body health. Exercise programs greatly benefit mental health. Exercising and healthy eating habits can reduce many health issues. It will also help to structure your daily activities. Perhaps purchasing additional units could encourage other family members to join in the body enhancing activities it provides.
Our Recommendation
If you want to look at some other options, take at look at the Les Mills option.
What do you think? Does Solo Ryder work or not?