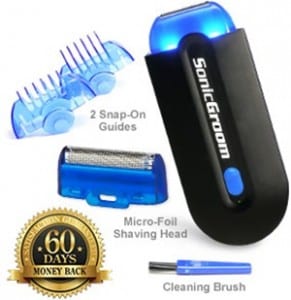 We really do love living in a world of convenience. When it comes to keeping up our appearances we want quick, simple and affordable devices to help us with this. So can Sonic Groom be a product that will meet this need?
Overview
Sonic Groom is supposed to be an all in one shaver that you can use on almost any area of your body to trim hair. It is a battery operated gadget that is supposed to allow you to get as close to the skin as a standard shaver.
The Claim
The company claims that Sonic Groom is the ideal gadget for trimming hair on the beard, sideburns,chest and body, neckline and is even good for touching up haircuts. They say it is quick and easy to use.
The Hype
There certainly is an appeal to have just one product like this that will do multiple tasks. If it works well it means not having to have a shaver that does one job then a hair trimmer that does another, plus additional products for hair on other parts of the body.
The Cost
The cost is $39.99 with free shipping.
The Commitment
If you don't have a hair need other than shaving then probably you really don't need the Sonic Groom. However, if there is a need then you are going to have to learn how to use the Sonic Groom device properly.
Evaluation
Overall we are somewhat skeptical about the Sonic Groom not only because it is a new product but it has been receiving some pretty negative feed backs. One of the biggest concerns is how aggressive it is on the skin.Some are reporting that the skin actually bleeds after using the shaver.
Final Sonic Groom Review
We are going to give the Sonic Groom a risky try/buy rating. Although the limited numbers of reviews to date are pretty negative to be fair we would need to wait and see more reviews after the product has been on the market for awhile, however the ones that do exist are cause for concern. It is a little confusing as the Sonic Groom is offered by Micro Touch which also offered the Micro Touch Pocket Barber. While it has more reviews it has only received a three star rating.
Our Recommendation
What may have happened is that Micro Touch attempted to correct the weaknesses in the Micro Touch Pocket Barber but by doing so has made the device a little too aggressive. Really what it comes down to is that there are specific devices for doing specific jobs and even though it is more of an investment it may better to buy the individual product. Or, if you feel that you can put a multi use product to good use then take a look at one of the trusted brands such as Wahl.
What do you think? Does Sonic Groom work or not?