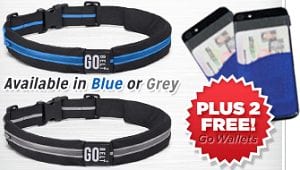 Most of us like anything that is convenient and when it comes to a product that will allow us to be hands free then it usually will draw our attention. Go Belt is one of those products but does it really do the job it is supposed to do?
Overview
Go Belt is a thin trim belt that you wear around your waist like any other belt except it allows you to store many of the important items that you need to carry with you on a regular basis. You might say that it is a modern day version of the fanny packs that used to be so popular. It is a lightweight stretchy material that is made for comfort, and it possesses two expandable compartments that are useful for carrying the items that you need. It basically allows you to be hands free so you don't have to carry a purse or wallet with you.
The Claim
The company claims that it is really great when you are wearing clothes that don't have any pockets. They are saying that the expandable compartments are a good size that will hold standard sized items like your passport or identification, or small enough to hold your keys and money, and is great for carrying your mobile phone too.
The Hype
They really focus on the convenience of the Go Belt allowing you to be hands free. It is perfect when you have to carry a bunch of other items that you need your hands free for. It works great for the kids who have miscellaneous items that they normally put in their backpack that are small and end up getting lost in the backpack.
The Cost
The Go Belt will cost you $10. plus $4.95 for shipping and handling. If you pay an extra $4.95 you will get a second one free. Plus with your order you get 2 free Go Wallets.
The Commitment
You are going to have to adapt to remembering to wear the Go Belt, but no doubt once you have used it once or twice it will become a habit for you. You will also have to remember to remove the items from the belt when you are not going to wear it as you are probably carrying important items in it like your drivers license or other identification.
Evaluation
There is no doubt that the Go Belt meets a need. You often see joggers carrying some type of device with them for carrying the items they need. The Go Belt is really compact yet big enough for its intended use. One of the most common items that individuals carry with them is their cell phones. Carrying them conveniently can sometimes be a problem, but the Go Belt accommodates this item quite easily.
Final Go Belt Review
We are going to give the Go Belt a Thumbs Up rating. It is certainly meeting a need. It is not a unique concept as there are other types of storage belts on the market. Many of these are much wider and are comprised of stretch material with pockets sewn into them. These are no doubt good too, but because of the width they may tend to make an individual feel too warm especially in the summer months. Aside from the usefulness of the Go Belt they are quite attractive to look at, and the price is reasonable.
Our Recommendation
If you are a busy person on the go then you may really want to consider the Go Belt. Another rather unique personal storage type product that we looked at before was the Tuff Wallet which has got a few good feed backs.
What do you think? Does Go Belt work or not?