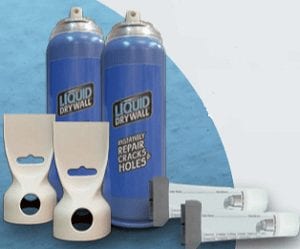 Having to do dry wall repairs can demand a certain amount of skill, and it definitely takes time. Now with the use of a product like Liquid Drywall perhaps this once nasty task has gotten a whole lot easier.
Overview
One of the most common repairs that needs doing around the house is the repair of wall damage. Most often these are comprised of drywall and repairing them can turn into a major job. Now with the use of liquid drywall this task may not be as big as what it quite often is. This is a product that you simply spray on a hole, crack or dent that has occurred in the drywall. You then remove the excess and smooth out the product and that's it.
The Claim
The company claims that fixing cracks and holes no longer requires the need of a professional as with their product, Liquid Drywall you can easily complete this task yourself. The promoters state it is easy to apply and there is no muss nor mixing. You just spray it on then using the handy spreading tool that comes with it you just spread it out.
The Hype
If you have ever worked with standard drywall mud for repairs to drywall then you know it can be quite the hassle as well as messy. At least if you are not a professional. Most novices end up having to sand and re-coat with the traditional drywall compounds. The hype with liquid drywall revolves around how easy it is to use and certainly indicates no sanding is needed which is a big plus.
The Cost
For the Liquid Drywall you can expect to pay $10.00 plus $7.95 shipping. If you throw in an extra $4.95 it will cover the shipping of a free gift that they are offering.
Evaluation
This is a new product so there aren't enough reviews or feedback to really base an opinion on as yet. Plus, it is going to take some time after a customer applies it as a repair to see how well it stands up. It may look good in the beginning but is it going to weaken in a few months time?
Final Liquid Drywall Review
We are going to give the Liquid Drywall a Try/Buy. It is just too soon to give it a full thumbs up as yet, but we wanted to make you aware of it. It is being claimed as being top quality and possesses longivity so no doubt it will be some time before we get a lot of feedback,unless the product breaks down quickly.
Our Recommendation
If you are constantly having to deal with drywall damage then it really may be well worth giving Liquid Drywall a shot. If it works as good as it says it does then you are definitely going to save yourself a whole lot of time and mess. It is reasonably priced so it may be tempting to purchase it event though it isn't well known as yet. There is no doubt that there are a lot of repairs that pop up around the home. Another product that really has received a lot of hype is Flex Seal. It is pretty well split on those that like it and those that don't. It just goes to show that products like this will work for some and not for other.
What do you think? Does Liquid Drywall work or not?