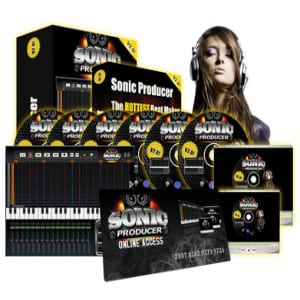 Sonic Producer is one of the more popular beat making packages out there, and says you can start making beats right away, regardless of your experience level. This can either allow you to do it for fun, or as a money-making venture by selling your creations to the public. But can you really make good sounding beats with this, or is there better software available at this price point?
Overview
If you've ever heard a beat on a track and thought it would be cool to make those on your own, you've probably done your research into your different options. There are basically two ways to go on this. There are professional beat mixers you can buy that are thousands of dollars, or you could rent out some studio space for hundreds of dollars an hour. Most people aren't willing to go that route just to check it out and see if they like it. The other option is to get a beat making software for under a hundred bucks and be able to do the same thing.
The Claim
Sonic Producer claims to be an all-in-one kit that can have you making music that sounds professional in a short amount of time, they say in under 5 minutes. They say that this is the second version they've released, and that they've made it really user friendly, with drag and drop functionality so you're not lost looking at the big mixer board wondering what to do. They go on to claim that even if you're a professional musician you can use this and you won't be disappointed. That's one of the fears people have, is that this sort of software is like a Micky Mouse version of the real thing and serious artists wouldn't use it.
They also say that they will show you exactly how you can sell your beats and make money with this software. A lot of competitors claim that you can sell your beats for money, but most don't go as far as saying that they'll walk you through the process. There's no doubt that there is a market for beats, and it's just a matter of locating buyers and getting them to hear what you've got.
The Hype
Beat production software is really popular these days, and one of the reasons for the popularity is you don't need to have a lot of expensive equipment to make a beat. Most people are willing to try it out at these prices because they know that the alternative is a rather hefty investment. Of course, if you come to find out that you're really good at making beats, you can always upgrade to professional equipment like the pros, but there's no need to put that sort of money up first before finding out if you even like it or have any talent with it.
The Cost
Sonic Producer is advertised at $35, but you can get it for $20 if you take advantage of their one time offer. It's processed through ClickBank as well, so you don't have to worry about getting hosed on this one. If you don't like it you have a full 60 days to request a refund, and if you do all of the money goes back into your account. There's no shipping, it's all downloaded to your computer so it's really a risk free situation.
The Commitment
Even though they say you can get started quickly with this, it's still a fact that the better you want to get at it the more time you'll have to put in to perfect your skills. If you just want to keep this at a hobby level then you won't have to do too much, but if you want to get to the point where people would pay you for your creations then you'll likely have to invest hundreds of hours to practice what you're doing, and to explore all of the features.
Evaluation
The video tutorials that come with Sonic Producer make it pretty easy to learn so you don't get that "what do I do now?" feeling that can sometimes accompany a new piece of software. If you're already familiar with these kinds of computer based instruments you'll likely get right to work with it, but if it's something you've never used before it's nice to know that you won't be lost right out of the gate.
Final Sonic Producer Review
We're giving Sonic Producer a Solid Try rating. They're doing a lot of things right, including allowing you to save your unfinished beats online, and the fact that it's a one-time fee instead of a monthly membership. They've also done a good job at providing everything you need, all in one package, not just the mixer which you'd expect, but also including an 4 octave piano, drum pads, and a lot of sounds and samples so that you have music to use right out of the box.
Our Recommendation
Since a lot of these beat producing systems are similar to each other, it's really a matter of trying them out so you can choose which one resonates with you the most. You've got to evaluate the user interfaces for yourself and see which one you like the best. This one definitely merits a trial run on your own computer. Since it's $20 and fully backed by a guarantee it's easy to give it a go.
What do you think? Does Sonic Producer work or not?