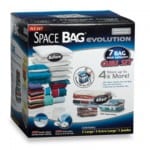 We could all use more space in our lives, and that's where Space Bags hope to help. By removing the air from our storage bags they say that you'll be able to reduce the amount of storage space needed and protect your items a little better. But do they really work as they're shown to in the ads, or is this product a dud?
Overview
The technique here involves using a vacuum seal so you're removing all of the excess space taken up by the air. Big, bulky items like comforters, sheets, pillows, towels, and clothes can get compressed, saving you space and allowing you to store more things in less room. This is definitely heaven sent for those of us that like things to be organized, and keeping our things nice.
The Claim
Space Bags claims to be able to increase your storage capacity by 4 times. Most people will likely use this to store 4X more stuff, but others might benefit by having more open space available. Other claims are that it keeps what you put into it clean, dry, and protected while you're storing it, so when it comes back out it's fresh and ready to go. They also say that they're waterproof, so you don't have to worry about water damage. And they're reusable, so you can use them over and over again.
How It Works
First, put all of the things you want to store in the Space Bags. Close up the zip lock top, and then attach your vacuum cleaner hose to the one-way valve. Proceed to suck all the excess air out of it, and watch as your storage bag reduces and size. The valve is set up so that once the air gets sucked out it should keep its seal. Some people have reported that the seal comes apart in certain conditions, so it's a good idea to double check it at times and see if it needs to be re-sucked at all.
The Cost
Their current special gets you three packs for the price of one for $28 which includes shipping. That will get you a total of 3 cubes, 3 large bags, and 3 medium bags. For the average household this should be more than enough to take care of all your storage needs.
Time Commitment
It does take a little bit of time to use Space Bags, because you have to stand there and watch the vacuum cleaner suck the air out. But since storing things like this only happens once in a while, and the results last for a long time, it's time well-spent and you can quickly get on with your life after you're done storing your stuff.
Evaluation
After seeing the Space Bags system put to the test in an actual real world environment, it's easy to see that it works as advertised. Of course, it's better for certain items than others. The vacuum effect works great with any bulky, porous object, like sweaters and sweatshirts, pillows, and bedding. This can be a great way to store your winter clothes during the summer, or vice versa. It's also a great way to store an extra set of bedsheets, or the bedding for the guest room in between company.
What About Space Bags TO GO?
Traveling isn't really conducive to lugging a vacuum cleaner with you, so the makers of the original Space Bags came out with Space Bags TO GO. You don't need a vacuum with these bags, you just press the air out of them by hand, and they stay close and don't let the air come back in.
After personally using these on a backpacking trip to Europe, I can say firsthand that they definitely work. The clever opening is designed to let air come out, but not back in until you open it. I used it to store my clean clothes, and it kept them dry, and separate from the dirty clothes in the same bag. It also saved a ton of space which allowed me to fit everything into my pack.
Final Space Bags Review
Space Bags work great! They stand up to real world testing and pass with flying colors. The amount of space saved will vary depending on what you put in it, but you have to use the right sized bag fitted for the item you want to store. Luckily they send you bags in several different sizes so you just have to decide which size you need. With their new cubes you can store even more in less space, and with less bags needed.
Our Recommendation
You can't go wrong by picking up a Space Bags system. Try the original first for your bedding, and then if you like them you can get the larger capacity sizes if you need it, or the travel version if you're planning a trip or travel frequently. They really come in handy, and can free up space in your home or space for more stuff.
What do you think? Do Space Bags work or not?