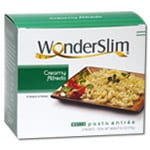 Wonderslim is one of the contenders in the diet food delivery arena. Their claim to fame is tasty food for a cheap price, but is that enough to sway people into trying it out? And if so, what kind of results at experiencing?
What It Entails
Wonderslim is brought to you by the Diet Direct website and is their own personal brand. They have you eating a total of seven meals per day every 2 to 3 hours so you're never hungry. You get to choose from over 50 different products they offer so you're not eating the same meals again and again.
The Good
Many people have stated that the food that comes with Wonderslim is pretty tasty for diet delivery food. When compared to Medifast the food has been rated as better tasting, which is surprising because it's also lower-priced.
The diet plan incorporates a freshly cooked meal on a daily basis so you're never completely dependent on prepackaged meals. This is one great thing about the plan because it helps you learn which foods to make for yourself, and also lets you eat with your family so you are not completely alienated while you're dieting. It also helps you learn how to shop and get healthy foods, avoiding all of the junk that most stores carry.
The price is also another great feature of the Wonderslim diet. If you go to 12 week program can get your per day cost down to $7.80. Although, since you'll be cooking one of the meals for yourself enough to factor those costs in as well. Even so, you should still come out pretty good as far as a monthly food budget goes.
The Bad
By making you eat seven meals a day, even if they're just snack sized meals you're going to have trouble fitting them in to a normal day. At two-hour intervals you're looking at 14 hours to consume all seven meals. At three-hour intervals you're looking at 21 hours.
Getting into the habit of grazing instead of eating is usually not a good thing, and can backfire once you stop the diet. Grazing on these prepackaged meals is one thing, but once the meals stop and you start grazing on what's available it will be hard to stop.
Also, the body produces digestive juices at certain times of the day and is not a robot. This means there are better times during the day to eat than others. It's a proven fact that digestion is sluggish in the early morning hours and at night, and peaks around midday. By completely disregarding the natural cycle of your digestion system were causing problems that will eventually surface.
Not much talk is done about the importance of exercise, but any diet program should also include exercise as part of your lifestyle change. It will make you feel better, accelerate the results you get from eating healthy foods, and improve all of the systems in your body.
What People Are Saying
User feedback has been strong for Wonderslim, with almost every single person that has tried it saying they have lost weight with it. It's easy enough to understand why this would occur because this is your classic calorie restricted diet. Although you're eating several more times per day, the net result is fewer calories. No one can argue that calorie restriction works, the problem is it'd not reliable long-term. Eventually your body will demand more calories, and that's when binges happen and diets crash.
The important thing to keep in mind is that you'll need a good exit strategy when starting off with Wonderslim. Figure out what you're going to do to get off of their program once you see the results you want. It's not as if you can eat prepackaged meals for the rest of your life.
Final Wonderslim Review
Compared to other diet delivery programs, Wonderslim definitely stacks up near the top. They've really thought out the system and seem to provide it at a reasonable cost. Not only that, but the quality of the food that you get will be better than some of the other competitors. By following their recommendations at the grocery store you'll also be able to cook a meal of your own every day so you get in the habit of cooking healthier.
Our Recommendation
Wonderslim says that the key to their program is replacing as many meals as you need to in order to see the results you want. We would agree, and would recommend only replacing a few meals at first and not going all out and replacing every single meal with their food. Start off small, and if you aren't seeing the results you want after one month, replace an additional meal. This way you'll eventually find which mix works best for you, and you won't be buying more food from them than you need.
What do you think? Does Wonderslim work or not?