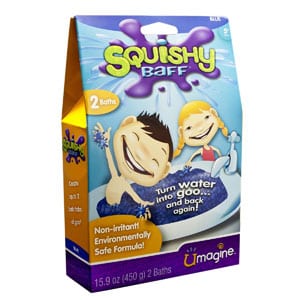 Squishy Baff is supposed to turn an ordinary bath into a mushy, squishy gel to make it more fun for the kids. If you've been looking for a way to make taking a bath more appealing, or just think they'd get a kick out of it, it might be worth a try. So we checked this out to see what the verdict is from actual users.
Overview
Baths can get boring for a child, and some don't really like the thought of getting clean, it's just kids being kids. Others really like bath time and treat it like a game, playing and splashing around, it's hard prying them out of there. If you start using something like this, you might find the task even harder though, and they might not want to go back to taking ordinary baths.
The Claim
Squishy Baff claims that there's just three steps to enjoying the fun: sprinkle it in to create the goo, play in it and have a good time, and then dissolve it so it drains without any hassle. It's pretty straightforward, and doesn't sound too far fetched, like making a big bathtub full of Jell-o, but not having to chill it in order for it to set.
They say that this won't irritate your child's skin, and that it's safe for the environment, so you don't have to worry about sending it down the drain.
The Hype
In the ads they make it look like this is the funnest thing in the world, which maybe it is, but after the first couple of times the novelty of it fades and they'll be back to taking ordinary baths without
The Cost
Squishy Baff is $30 shipped to your door, and comes with enough product for four baths. The quick math puts that at $7.50 per bath. So this is definitely going to be a once in a while thing, and you'll have to convince them that they're not going to get a daily Baff.
The Commitment
This is what makes it really fun for parents, because all you have to do is sprinkle it into the bathwater and it does its thing, changing the water to a different color, and gooping it up. When the bath is finished you sprinkle in the dissolving solution and it turns it back into water so that it drains easily. In between is just play time in the bath and watching your kid having a good time.
Evaluation
You'd think it would be pretty easy to make a product like Squishy Baff, and make it so it doesn't get any complaints. After all, it's not rocket science and doesn't make a lot of big outlandish claims. But it gets completely mixed reviews, with some people saying it's a disaster, and other people saying it works just like it's advertised and provides a fun time for the kids.
Some common complaints are that it makes a mess, doesn't dissolve, is overpriced, and isn't as fun as expected. Everyone seems to agree that it lives up to its first claim of making things squishy in the bath. It's just the dissolving part that seems to mess up the deal. People have tried all sorts of ways to get it to break up and go down the drain, and the winners seem to be adding more salt, and running hot water. The consensus is that it doesn't dissolve completely back to water, but still breaks down enough to not get clogged.
Final Squishy Baff Review
Squishy Baff is one of those products that you'll either love or hate. If you know what you're getting yourself in to and it still seems like good idea to you, then by all means try it out. It definitely works at making a goopy, Jell-o like mess, which some parents won't mind, but others will not like cleaning up. It's interesting how products for kids can bring out the grown up in people. Complaining that their kid only had a few minutes of fun, or that clean up took a little longer than planned seems a bit petty.
So if you go into this with a lighthearted attitude and realize that it's not going to be exactly the way they show it in the promo video, you'll probably have a good experience with it.
Our Recommendation
Some kids love jumping into the bath, and others it's like trying to put a cat in the bath. Whichever sort of kid you've got, they'll probably like something like this. It can entice the reluctant ones to take a bath, or it can amplify the fun that they're already having. By changing up the feel of the water to a goopy gel, the entire experience is different and the colors give it a surreal feel.
What do you think? Does Squishy Baff work or not?