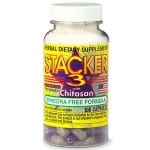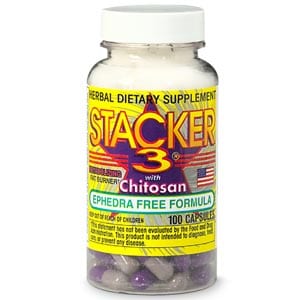 Losing weight can be a struggle, and if you're fed up with the process you might be considering Stacker 3. This is billed as an ephedra-free way to help get rid of the stubborn fat in your body. It does this by binding to the fat and helping it find its way out of your system. But does it really stack up to its claims?
Overview
Chitosan is the primary active ingredient in Stacker 3 and is supposed to be better than previous weight loss methods that have since caused a lot of controversy and been pulled from shelves, like ephedra. It is supposed to reduce your body's ability to absorb the fat that you eat, so you actually end up retaining less calories
The Claim
This is supposed to give you increased energy in addition to making your body fat-proof. It's the usual miracle solution in a bottle rhetoric, but the only difference is that people are reporting having success with it.
The Hype
The hype is in place because the makers of Stacker 3 have been making this sort of product for quite some time. They started with the original Stacker, then the sequel and have now made it a trilogy. There is added hype because of the fiasco with Stacker 2 being banned by the FDA. They say all press is good press, and people don't care if a product gets banned as long as it produces results.
The Cost
Stacker 3 is around $20 if you go with the one-month supply option. You can sign up for auto-shipments and pay less per month.
The Commitment
Every diet pill out there promises the lowest level of commitment, and that's why they're so appealing to those that want to lose weight without putting the effort in. It's normal to feel this way, especially if you have previously tried very hard to lose weight, and now you just want something quick and easy instead of slow and painful.
But this is dealing in extremes. You don't have to push yourself to the limit, or pop a diet pill in order to lose weight. It might seem like your only options, but there is a third option you don't hear quite so much about. A slow, steady, sustained focus on losing weight is your best option. Going hard out trying to lose weight fast will always backfire. Diet pills can't be taken for the long term. Here's the solution:
Start making subtle changes that your body won't even notice. If you don't get any exercise, start taking a 10 minute walk everyday until you don't even have to remind yourself. When 10 minutes seems to short, bump it to 15 and continue on with that until you don't notice the extra time. Keep adding to your activity level gradually, and before long you'll be taking 30-40 minute walks daily, and it will seem natural.
At the same time you are increasing your activity level, start making very small changes to the way you eat. Don't try cutting your daily calories or watching what you eat. Just identify one thing that you know you can give up or cut back on without much pain and suffering. For example, if you drink a lot of soft drinks, try cutting those out first until you don't have to wrestle with the urge to drink them. Then move on to potato chips or another vice.
The Danger
You are putting yourself in harm's way by trying something like Stacker 3 on your body. Don't treat your body like a science experiment, and don't be a guinea pig for a company that obviously didn't do enough testing when they released Stacker 2 and had it banned by the FDA.
What People Are Saying
The reviews are in, and an overwhelming majority are saying that it has worked for them. They report everything from increased energy to losing over 50 pounds while on it. However, it is important to note that these same users combined a healthy diet and exercise in order to get these kind of results.
Final Stacker 3 Review
Going with diet pills like Stacker 3 is almost always a bad idea. Not only is it not sustainable, but it can flat out be dangerous. The weight you do lose will probably be regained when you stop taking the drug, and you'll be right back where you started, if you're lucky. You could even establish worse eating habits while you're on the medication, and you could gain even more weight than you had before you started.
Our Recommendation
You can see our recommendation in the Commitment section above. We advocate slow, steady weight loss without the use of diet pills. We also recommend several fitness programs once you find yourself looking for something more challenging to do for your exercising.
What do you think? Does Stacker 3 work or not?