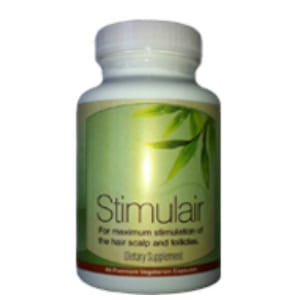 Stimulair is a hair loss pill that comes in two different forms, one for men, and one for woman. It's got a host of all-natural ingredients that have been shown to help nourish hair and bring it back to life. But it can be hard navigating the murky waters of hair loss treatments, so we sized up the claims made by this company, and are here to report whether it is something to give a try to or not.
Overview
Losing your hair can be one of the most tumultuous times of your life. You feel like there's something you should be doing in order to prevent it, but you're not quite sure what, or you don't want to jeopardize your health with a pharmaceutical drug. This can lead to stress because you know that inaction is not the solution, but with so many mixed reviews on hair loss products it sometimes seems like the best route. But don't give up the fight, as it usually goes to the ones that persevere and get that never-say-die attitude.
The Claim
Stimulair claims that it can stop your hair loss, and start to regrow it all with one product. The biggest draw to this would be that you don't have to use a bunch of different products to treat your hair. They also claim that they produce these pills in a facility that is living up to the standards set by the FDA. They say that the product will work for those that have thinning hair, and those that are balding, and especially guys that are showing signs of male pattern baldness.
The Hype
There isn't a lot of hype behind this product other than the fact that it is promising to stop your hair loss. Any product that makes these sort of claims is going to get the attention of those looking for a way to stop the shedding process. Steering clear of all of this hype is something that falls on your shoulders. You should have the mentality of hopeful optimism, with a dash of healthy skepticism. This would mean that you hope it's going to work, but you're not going to get your hopes up so high that it becomes a crushing setback for you.
The Cost
Stimulair is the same price for both men and women at $35 per month, and they put you on a monthly recurring auto shipment and auto payment so that you receive a new bottle each month. It's the classic Catch-22: if it works it's a huge bargain, and if it doesn't work it's a waste of money.
The Commitment
This is a hair loss pill so there is not a ton of commitment on your end compared to foams and other liquids that you have to apply to your balding areas. It would probably be a good idea to take a before picture before starting this regimen because the mind can play tricks on you either one way or the other. You might think that you are getting great results, but it's just the placebo effect. Or you might think you're not getting good results, but checking your before and after pictures later you find that it actually is doing something.
Evaluation
The men's formulation of Stimulair contains things like saw palmetto, biotin, pepsin, cysteine, methionine, and zinc. They give pretty accurate descriptions of each ingredient and explanations as to why they are included and what they are supposed to do for your hair. All of these are naturally based so you are not putting any harmful substances into your body the way you would with prescription medication. Most guys that try something like this out by looking for a way to avoid the chemicals that are included with pharmaceutical medicines.
The women's formula has iodine added for hormonal reasons, and includes many of the same ingredients as the men's version. Hair loss in women is often overlooked, or at least gets the back burner for most companies out there, so it is nice to see that they have created a separate product for women, and aren't just saying that women can use the men's version as well.
They draw the distinction that this product is made in the USA, with many competing products being made in China.
Final Stimulair Review
Stimulair contains popular ingredients that are found in many hair loss products on the market, and they do it at a price that is more affordable than most of what's out there. However, this is no guarantee that it will work for you because the products that have similar ingredients get mixed reviews. There's really no way to tell whether this is going to work based on other people's experiences with it, you really have to pick a product that shows the strongest signs of working, and give it a go on your own condition.
Our Recommendation
At this price point, and with these ingredients, there's no reason not to try this out for one month, except for the uncertainty of how easy it will be to cancel your subscription once you decide you don't like it. Their customer service consists only of an e-mail address and phone support with regular business hours in Pacific time, so it might not be the most convenient thing to do to try to get them to stop your next order from coming. They we do offer a 60 day guarantee, so you should have enough time to try it out and see how it's working.
What do you think? Does Stimulair work or not?