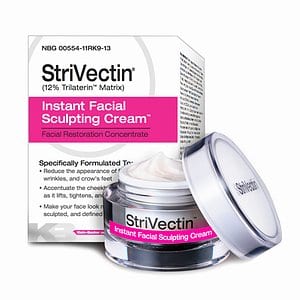 If anti-aging is your goal Strivectin aims to have you covered. They offer an assortment of products all geared to go to war with Father Time and restore some of your youthful looks from yesteryear. There are plenty of competing products to choose from, and the basic claims are the same, so it can be hard to know which ones to go with, especially since time is of the essence and you don't want to waste it with the wrong product.
Overview
The first thing you're going to want to do is develop a plan of attack. Identify which part or parts of your face you want to focus on first, and then come up with a secondary and even tertiary goal for what you want to accomplish. If you're going to fight the signs of aging you need to be strategic about it, take before pictures, and track the results you're getting or you'll never know if you're using the right products.
The Claim
Strivectin claims that their products can do all sorts of things like smooth up fine lines and wrinkles, even out uneven skin tone, tighten and lift sagging skin, help reduce the appearance of stretch marks, handle the dark circles and puffiness under your eyes, and also help if you have sensitive skin that needs some anti-aging TLC. Each of the products they make comes with its own list of claims, but the overall theme here is that you'll be taking steps to bring back your younger looks, as long as you put the time and effort in.
The Hype
Anti-aging products are all the rage these days, and will likely continue to be so as the American population gets older. It's not a surprise that many are seeing the first or second signs of aging and are ready to do something about it. It puts manufacturers and marketers of these products in the privileged position of having a ready market of buyers if they can get their goods to show some positive results.
The Cost
As an example right now they've got a kit going for $99 that includes 6 products, and that they claim typically retails at $200. Since some of their individual prices are $99 for one item this seems like a good deal, but of course you have to check for things like bottle size to see what sort of deal you're really getting. One of the items in the kit, the Power Serum, is $99 for 1.7 ounces, and you get a one once bottle of it in the kit, so it seems like overall you're probably getting a good sampler to see if you want to stick with certain products for the long run.
The Commitment
When going into battle with time, it can be merciless because it doesn't let up, and it doesn't take a break. Therefore you'll need to give daily attention to your anti-aging efforts. Most find that a morning and nightly ritual is the best way to go. That way you are starting the day with a fresh face, and at night you can use products that are designed to get the most benefit when applied right before bedtime. Also, be sure to commit yourself to sticking with these for the long term, and don't stop using them if you don't see results immediately after using them.
Evaluation
Strivectin does make it easy to pick out the products that would be of most interest to you by letting you drill down according to what is concerning you most. Rather than starting with the product name and then figuring out what it does, you can start with the problem you're having and then see a list of products that will help in that area. This coincides with the battle plan strategy we discussed above, allowing you to focus your attention and energies on the parts that are giving you the most grief, so you can get the most bang for your buck and notice the results more easily.
After evaluating dozens of anti-aging products we've noticed that very few if any ever manage to get unanimously positive reviews, or even a consensus. There's just too many skin types, skin conditions, and too much of a range of expectations about what creams and serums can do, and in what sort of time frame. As long as you go in with reasonable expectations you should be pleasantly surprised at the results you get if you stick with it long enough.
Final Strivectin Review
We're giving Stirvectin anti-aging products a Solid Try rating, especially if you can find a special deal like the one we mentioned above. This allows you to try out several of their products and see which ones agree with you and give the best results. Overall feedback on their products has been mixed, but this is the case with all anti-aging products and typical with skin care products, so it would seem fishy if everyone said it works great. The existence of positive reviews and happy customers talking of their results means that there's a chance this could work and it merits a try.
Our Recommendation
If you follow our advice and use specific products on your most troublesome areas you stand a higher likelihood of being pleased with the results than if you take an overall approach, or try to fix many things at once. It seem counterintuitive to be patient when you are fighting the incessant passing of time, but if you try to do too much at once it's harder to stick with, harder to measure results, and more expensive in the long run.
What do you think? Does Strivectin work or not?