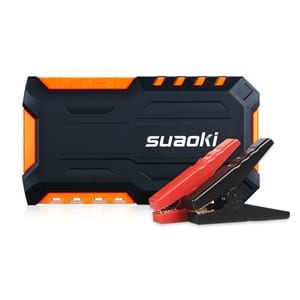 Keeping the vehicles going in the winter months can sometimes be a challenge especially when the weather is cold. There is nothing worse than running out to your car in the bitter cold only to find that it won't start. This is not just a winter problem either, but one that can occur at any time of the year. There is a solution to help rectify the problem and thats the Suaoki G7 600A Peak Battery Charger.
Overview
Most of us have been there at one point in our lives, go out to the car and try to crank her up and….nothing…well, maybe a ticking sound but no firing up of the car as we expect….the reason? Dead car battery. The next step of course is to haul out the booster cables that have been taking up space in your trunk for just such an eventuality, or worse yet, trying to find someone who has cables because you do not own any. The Suaoki G7 600A Peak Battery Charger makes all these scenarios a thing of the past.
The Claim
The claim by Suaoki is that this Suaoki G7 600A Peak Battery Charger will let you start your car or someone else's up to 22 times on a single charge and the unit is literally the size of a paperback book which is quite simply astounding.
The Hype
Much of the hype surrounding the Suaoki G7 600A Peak Battery Charger and units similar are the size! The booster packs that many of us have grown up with are quite large and can be very, very heavy to carry. This unit eliminates all those arguments in one fell swoop.
The Cost
The cost of the Suaoki G7 600A Peak Battery Charger is a very reasonable $79.99.
The Commitment
Not much in the way of commitment required for the Suaoki G7 600A Peak Battery Charger, you simply need to re-charge it periodically to make sure that you have enough power when you need it. Other than that it requires nothing and can literally fit in a glove box for storage.
Evaluation
What first impressed us the most about the Suaoki G7 600A Peak Battery Charger is the size of the unit, it can literally fit into a glove box of a vehicle giving you instant access to a battery booster when you need it most. The main reason most people do not carry around booster cable is because of the size and shape, they can be very cumbersome and hard to store and use and older booster packs have the same problem as well, they are very large and can be very heavy as well. This unit eliminates all of these problems. The unit is very small and completely portable and can hold a charge to boost up to 22 times without a re-charge which is very impressive indeed. The unit also houses 2 USB charging ports so that you can charge your cell phones or any other digital device should you need to do so in an emergency. There is also a very hand flashlight component so that you can see if you need to boost the car in the dark.
Final Suaoki G7 600A Peak Battery Charger Review
In addition to the awesome features mentioned above, the Suaoki G7 600A Peak Battery Charger also has intelligent connectors so that you can never make the mistake of hooking up the wrong cable to the battery (Red is positive or live and black is negative or neutral!) which without this feature can have serious and drastic consequences. They have literally thought of everything with this incredible piece of kit.
Our Recommendation
We would recommend the Suaoki G7 600A Peak Battery Charger to anyone who owns an automobile and wants to have peace of mind knowing that they are covered if they have battery issues when out and about without having to lug around a massive booster cable bundle or a very heavy booster pack that is the size of a small suitcase. Great product at a great price point! if you are looking for an alternative then you may want to take a look at the Pocket Jump.
What do you think? Does the Suaoki G7 600A Peak Battery Charger work or not?