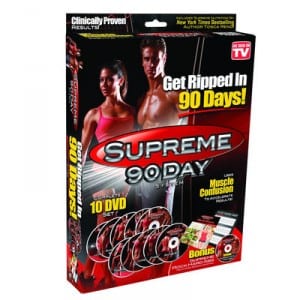 The Supreme 90 Day Workout is an obvious copycat of P90X, and they say imitation is the highest form of flattery. But what about imitation and price cutting? Them's fightin' words! So let's see how this stacks up against the reigning champ, and whether you should go with this new contender. We've tried them both and are here to report.
Overview
It's been proven for years that these sort of workout DVD programs can be effective, especially if you sign on for the long haul. You'll see a lot of two week diets being sold, or 30 days, and even a lot of 60 days. But if you're looking for a transformation, at changing the structure of the body from the ground up, you have to go for 90 days and beyond. It should also be a
The Claim
Supreme 90 Day Workout says that you can get ripped, lean and strong in just 90 days. While they make it seem like 90 days isn't very long, and it isn't really in the grand scheme of things, it can seem like a long time to commit to a daily training and eating program. They say that by following their nutrition guide, and following the step by step program for the entire 90 days, you can't help but see results.
The Hype
This program seems to be riding the wave created by other programs that have come before it, namely P90X. It's not that P90X was the first workout program to go for 90 days, but they've since owned it. For example, Body for Life predates Power 90 and was a 12 week program, which is essentially 90 days. It is interesting to note how different fitness trainers have different programs and different paths on how to get there, but they seem to agree on the time frame.
The Cost
The Supreme 90 Day Workout is not as expensive as some of the other comprehensive DVD workout programs out there. The grand total comes to a one-time payment of $27, which is a fraction of the price of other programs. They are not pulling any punches, and in order to capture some of the market share from the big names out there, they are forced to offer their program at a very reasonable price.
The Commitment
You have to commit yourself to the full 90 days. Why do so many programs come with a 90 time? It seems to be the magic number that the body and the mind need in order to make a turnaround. They know that if you can stick through it, the magic starts to happen towards the end of that 90 days. The first 30 days is rough, because you're pushing it hard, your body and mind are fighting you with soreness and trying to convince you to stop. You might see no visible results for a few weeks. But days 60-90 the weight starts dropping, the body shifts, and everything falls into place.
So it's really up to you. Eventually you'll have to pick a program, map out 90 days for yourself and put the effort in. The question really becomes: if you found the tool that worked, would you use it to get what you want? This fitness program works, it produces results. Plus yourself into it. Put the blinders on. Go all in. Burn the boats. Whatever you have to do to get psyched up about it and stick with it for a solid 3 months. You can do it. Now is the time. Pick one and get started ASAP!
Evaluation
If Tony Horton gets a little too annoying for you on P90X, you might like the style of the Supreme 90 Day Workout. It's not as fast of a pace, but will still get you in shape, and the host is not so cheerfully cheerful all the time. The nice thing is that you can still get pumped about it, but not get demotivated because you're lagging behind. You might at first, if you've never done a program like this, but you'll be able to catch up more quickly than with other programs, and this builds your confidence and allows you to perfect your form.
It's not just us that like it, others like it too. It gets good reviews from other impartial users that have tried it out. They say things like it's a great value, that it's similar to P90X but cheaper and easier to follow, and that they were able to see results quickly, and more and better results the longer they stuck with it. Not having to go to the gym is huge, and for about the price of a one month membership at some fitness centers, you can have this and use it as much as you want.
Strength and Cardio and Confusion
Any time you do one of these body transformation programs they will usually involve a strength section, a cardio section, and do what's known as muscle confusion. This is because you need to build muscle for a 24/7 fat burning efficiency due to an increased metabolism, the cardio is good for your overall fitness level, and burns fat in the now, and confusing the muscles always keeps them guessing so you're not doing the same thing again and again.
Final Supreme 90 Day Workout Review
We like the Supreme 90 Day Workout and give it our Thumbs Up review. It's intense fitness but not over the top, and you really can go at your own pace with this and not feel pressured to try and keep up with the models. And you get results, so it's not like you're sacrificing results for lower intensity.
Our Recommendation
There's room for both McDonald's and Burger King, and in the realm of fitness there doesn't have to be one 90 day program to rule them all. There are enough differences between P90X and Supreme 90 that they serve two different audiences really. If you're looking for something more extreme, P90X is it. If you're looking for something that will still give you that total body transformation without pushing you past your limits, Supreme 90 is supreme.
What do you think? Does Supreme 90 Day Workout work or not?