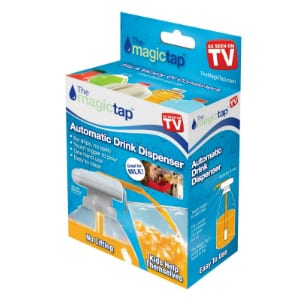 The Magic Tap seems like it would be a must-have item if you've got kids in the house that are at that age when they want to be self-reliant, but still need some assistance pouring heavy items. If you've noticed that you're having a harder time with gallon-sized jugs due to arthritis or other conditions, this most certainly caught your eye. But can it really deliver the goods, in this case milk, juice, and even coffee and tea?
Overview
Cleaning up spills from accidents involved milk and other liquids can be a real drag. Even adults sometimes have trouble making the bowl or the glass in a bleary eyed early morning stupor. Those with arthritis find it especially hard to grasp and lift heavy objects like that. This product has a lot of potential to make people's lives just a little bit easier, so let's see how well it lives up to its promises.
The Claim
Magic Tap says that it won't drip or spill, and that this enables kids to help themselves, checking one more thing off the list of things you need to do every day. The benefit to all of this is that you don't have to lift and pour heavy jugs of juice and milk, you can just have it dispense right into your glass with the push of a button.
They say that the cap fits on most containers, so you can use it for different beverages and not have to worry about it coming off. It also uses batteries, so you don't have to worry about keeping it plugged in, and you can use it anywhere.
The Hype
When you see this in action you automatically want one. What's better than an automatic drink dispenser at home? It brings that certain novelty to an ordinary task, the way an electric toothbrush does for teeth brushing. You know doubt envisioned yourself and your children using this the way the families use it in the promo spots. Now they've gotcha.
The Cost
This is one BOGO offer we don't mind. If you have one Magic Tap you'll end up wanting another, because you'll probably keep one dedicated for the milk and want another one for either water or juice. The shipped to your door price is $27, which gets you two units. If this can save the sort of time and hassle it says it can, it will definitely be worth it, and for those that are enfeebled it could be a Godsend.
The Commitment
This should represent a drop in the amount of time you have to spend pouring your drinks. It will take some setting up, and you'll have to pour the first glass of milk from the container so the unit can fit. After you've got it set up and functioning properly you can let the kids have at it for their bowls of cereal, or use it for juice and water for the hot summer months to encourage proper hydration. Be sure to read and follow the directions to the letter, don't use the infomercial as the guide on how to set it up.
Evaluation
There are a lot of mixed reviews for Magic Tap, but the funny thing is that a lot of the negative ones complain about the fact that you can't insert this into a full gallon of milk. Of course you can't, the Magic Tap takes up space in the jug, so it's going to displace enough liquid to make room for itself. Others complain that they had to rearrange the shelving in their refrigerator to get it to fit. These seem like trifling complaints, and it's unreasonable to think that you won't have to adjust to a new product like this.
Final Magic Tap Review
Magic Tap is getting our Try rating, but just be sure to keep a level head when you first get it, and take some time to test it out and get used to how it works. There's the concept of how it works, as depicted in the optimal settings shown in the infomercial, and then there's the way it actually works in the real world. It takes a little tinkering to get those two to mesh together, and if you adjust to the way it works you should find that it does live up to its core claims.
Our Recommendation
There are plenty of positive reviews for this, which leads us to believe that if you take the time to learn how to use this properly, and adjust things around so that there aren't any problems with it, you'll be all set and it will work like it's shown in the commercials. It might not be as easy as 1-2-3, the way they claim, but even if it is as easy as 1-2-3-4-5 it's still a good buy.
Read user reviews on the Magic Tap
What do you think? Does Magic Tap work or not?