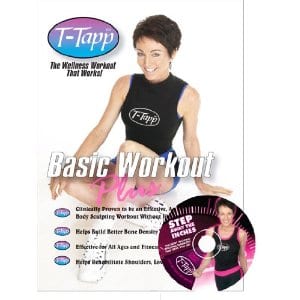 T-Tapp bills itself as the wellness workout that works, so we've accepted the challenge of trying to determine if it actually does or not. The system is based on Fit and Fabulous in 15 Minutes, a book written by Teresa Tapp. It's also got a line of DVDs that illustrate what is taught in the book, so you can see exactly how to do everything that's required. There are testimonials, but we wanted to get to the real feedback and see what sort of results people are getting.
Overview
An interesting trend has started in the fitness industry where you'll see tons of fitness instructors going for high intensity training. Things like P90X, Crossfit, and Insanity all boast that you'll be taking your body to the next level by pushing it out of its comfort zone. But not all of us want or need to have a body that is "shredded", "cut" or in the same shape as an elite athlete. Some of us just want to lose the weight, feel good doing it, and help reverse or slow down the aging process as we go along.
The Claim
T-Tapp says that it engages both the right and left brain, and that it works as an anti-aging workout. It is important to note the difference between a workout that promotes anti-aging benefits and one that doesn't. Putting your body through extreme workouts and pushing it past its limits might give you short term benefits, but will end up aging you more quickly. In order to lose weight and tone the body in a way that supports the aging process, instead of accelerating it, you'll have to eat the right foods and do the right exercises. This workout claims to have this sorted out for you.
The Hype
The book and workout program seem to be getting their fair share of attention in magazines, and there are a host of success stories you can check out. Compared to competing workout programs there isn't too much self-generated hype, and there aren't big claims like "Lose X Pounds in X Days!", a ploy often incorporated by fad diets or extreme workout programs. Whether they've strategically tried to make this hype-free is still up for debate, but it is somewhat refreshing to see a different approach to selling a fitness program.
The Cost
There are many different products you can get with T-Tapp, all at different price points. If you just want to test the waters you can get the basic DVD starter for $36. If you're ready to go all in you can get the complete system for $145. She also says that you can get an idea of how it works by using the free information and videos on her website so you don't have to make a purchase to decide if it's right for you. You can also get the book at Amazon for around $12.
The Commitment
Of course you're going to have to follow this long enough to get results, but that is true with any workout and diet program. But they've made it really easy to stick with so you might not find it as challenging to do as some of the other programs you've tried. For example, you're not required to follow an ultra-restrictive diet like some of the fad diets make you do, and you don't have to work your body until it collapses in order to see visible results.
Evaluation
The way T-Tapp approaches the goal of losing weight, having more energy, more flexibility, and just feeling good is different than a lot of fitness programs on the market. This seems specifically for those that want something for the long term and that is sustainable. It's a more relaxed approach, one that focuses on getting the form right and getting your body to help work for you instead of against you. It's likely different than what you're used to seeing, which is why you should check out the free videos she has at the site.
One of the best features of this program is that it doesn't require any equipment. This is something you don't see very often because most fitness gurus want to be able to sell you their gadget so they can boost the order total. But with this you don't have to have any special tools or gear, you just follow what she does and it works. The exercises are simple, but once you try them out you'll agree that they're effective.
Final T-Tapp Review
The T-Tapp system is getting our Thumbs Up rating. It is a comprehensive program that anyone can follow and get results from. The exercises are easy to perform yet effective, and the methodology behind it is solid. Compared to the fad diets you see, and the extreme workouts that are becoming wildly popular, this is a system you can use with ease but still get the results you seek. It's something that you can make your new lifestyle, rather than something you'd have to challenge yourself to do for 60 or 90 days.
Our Recommendation
This program would appeal specifically to those that have tried losing weight in the past, who are tired of taking extreme measures to lose weight, and those that want the added benefit of looking and feeling younger. It gets your body moving but in a way that doesn't seem like exercising, and by using the included food guide you're bound to see a great improvement in your weight, and overall body image in short order.
What do you think? Does T-Tapp work or not?