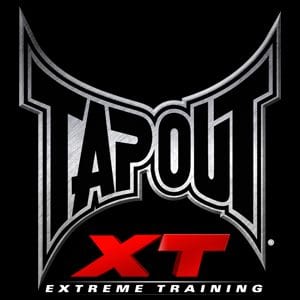 TapouT XT says it is the most extreme workout on the planet, and that is inspired by mixed martial arts. It's hard to deny that the fighters in the UFC have some of the leanest, most cut bodies out there, but have they really developed a DVD program that can give you those kind of results? We take a look at this system to see what you can expect, and to see if it's worth giving it a shot.
Overview
Mixed martial arts is, as the name implies, a combination of different fighting forms all designed to get your opponent to tap out as quickly as possible. Some fighters might specialize in a certain form, such as Judo or Tae Kwon Do, while others might use a mixture of whatever it takes to get the job done. Since there aren't many rules involved in the sport, and the amount of protective gear is minimal, you'll see some pretty brutal take downs, as well as hooks that twist arms the way they're not supposed to be twisted in an effort to get the person to surrender.
The Claim
TapouT XT claims that with their 12 different workouts you'll be able to burn up to 1200 calories an hour. They say that you'll lose weight, build up your lean muscle mass, and get ripped. They say that this cannot happen in just 90 days, and they provide a full 90 day guarantee to back it up. They say this doesn't use any weights, and you won't have to do anything like pull-ups or sign up for a gym membership. They say that it's hosted by a pro-trainer that helps condition fighters in mixed martial arts.
The Hype
The hype comes from this being an MMA style workout program and lots of people wanting to get trained in this fighting format. It's not actually going to teach you how to fight really, just how to mimic the moves in order to get your heart rate going and the sweat pouring.
The Cost
TapouT XT is $140 including shipping, broken down into payments of $60, $40, and $40. Compared to other intense training programs like P90X2 or Insanity, this is right in line with them.
Some people think that these price gouge a bit, since they're are essentially DVD programs. But there is a lot of production value that goes into them, and the developers try to give you as much training as they can in one package. If you compare it to one-on-one training, it's not very much at all. It's more a matter of how much you get into it. If you treat it like they're you're coach and don't create that mental separation of them being on TV, then it can work for you as if you were getting personal training for cheap.
The Commitment
If you thought regular workouts were tough, this is going to be killer. If you want the kind of body that these fighters have, you've got to be willing to work at it daily. That's what they do. They eat, sleep, and breath fighting and training, so you have to get in that mentality. Eat like you're training for a big fight, train like you're trying to outdo the other guy's training, and push it hard as if your career was riding on it. Even though none of this is true, it's the sort of mind set you should have if you want to get that ripped body.
Evaluation
TapouT XT is pretty comprehensive, and it's all self-contained. Unlike other programs that start off with a base unit, and make you add upgrades to get the whole package, they include everything you'd ever want all in the box. We absolutely love that they cover you for the entire time that they say it takes to complete the program. So many other products out there offer only a 30 or 60 day guarantee you when their system takes a full three months to complete. With this you don't have to make up your mind on whether or not you want to keep it until you see the full results.
Fighter Fit, Not Ring Ready
Just remember that if you want to learn a martial art, this isn't going to do it for you. This is mostly focused on aerobics and strength training, and only dabbles in the actual martial arts aspect. This would be a good training program to do in conjunction with learning the fighting behind it. However, if you're just going for the aesthetic then this should provide the results you're looking for.
Final TapouT XT Review
TapouT XT is pretty unique in that there isn't another program that offers as much as this does, and is designed to get you looking like an MMA fighter. If you want to capture some of that intensity and put it to use in a focused and strategic way, this is it. Their Sprawl and Brawl, and Muay Thai programs alone will have you feeling like you could take people on in a fight. Just don't let it fool you though, and don't start picking fights with people just because of your newfound fitness and agility.
Our Recommendation
This program is a lot of fun, especially if you're a fan of MMA or UFC. Once you start seeing your body transform, it can be addictive and you'll find yourself wanting to workout instead of dreading it. That's when the tipping point occurs, when you find that the routines are pulling you towards them, rather than you having to push yourself to do a workout.
Official Website: Tapout XT
What do you think? Does TapouT XT work or not?