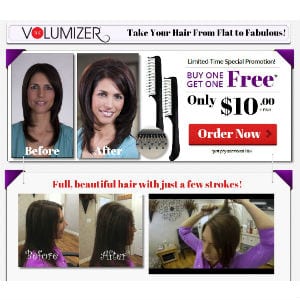 The Volumizer is a special comb that is designed to turn your hair from frizzy to calm, with added volume of course. But can a simple-looking comb like this really make that much difference to your hair in just a few strokes?
Overview
It can be hard trying to get your hair to settle down, especially during the humid months. It can also be equally tough to try to add volume to it. A product that can do both at the same time would definitely get the attention of fashionistas everywhere, so let's look more closely at what is being promised and how they plan to pull this off.
The Claim
The makers of The Volumizer say that you can get salon caliber hair anytime you need it, and wherever you are. They say that after using it you'll have no knots in your hair, and no frizz. They also state that you can use it on any type of hair and it will provide consistent results. They say that the reason it works is that the teeth of the comb are spaced out just right so that they end up pumping up your hair with volume right when you start using it. The angles on the teeth is what provides the volume, and tames the frizz.
The Hype
Hair is one of the most important beauty aspects of the body, and gets a lot of attention when coming up with your overall image. The hair industry generates billions of dollars selling products designed to straighten, curl, and otherwise tame hair or make it do what we want it to do. This is yet another product capitalizing on this phenomenon and promising to be the magic bullet that gets hair to behave itself.
The Cost
They send you to Volumizer combs for $26 but the odd part about it is that they are charging $16 for shipping and only $10 for the actual product. The only reason to set things up this way is to thwart returns. They only have to refund $10 of your money in the event that you return the product, and you'll also be out return shipping costs. There is simply no way that it costs $16 to ship to plastic brushes. They could price this at $20 for the two brushes plus $6 shipping and it would be reasonable, and still be at the same price.
The Commitment
This is pitched as a reduction in your commitment level because it's supposed to work quickly and almost effortlessly. It is designed to replace your traditional comb, and possibly even your brush.
Evaluation
There are plenty of products that compete with The Volumizer. Consider the Hair Bean, a bean shaped brush that is promising the same benefits. It gets good reviews and is priced at $10 to $15, with no gimmicks on shipping. The point is that there are other products out there already successfully doing what The Volumizer says it can do, so you don't have to feel like they've got a monopoly on tangle-free hair.
While the accompanying video shows a demonstration of what the comb can do, it's only on one person so it doesn't show that it can be used on different hair types, and there's no way to tell what kind of product she was using in addition to the comb, so there's no way to be sure you can replicate her results. The before and after pictures don't prove very much, either, as it isn't shown how it got from point A to point B.
What we like to look for is peer feedback to see how others are liking it after buying it, and that is in scarce supply. This is a relatively new product to the market, so we'll keep an eye out for the brave souls that want to take the plunge and override common sense by purchasing a product you can't really return without taking a loss.
Final The Volumizer Review
The Volumizer is getting our Risky Try rating because if the manufacturer isn't going to have any faith in its product, why should you? They did not provide enough conclusive evidence that this brush can do what it says, and they are putting all of the risk on you by charging more than $25 and only offering to refund $10 if you're not satisfied. Sounds like too easy a way to make $16 again and again no matter if the product works or not.
Our Recommendation
There are plenty of hair products for you to choose from, so you're not forced into buying this for a lack of options. You can try it out but be warned that if you don't like it you'll be out a minimum of $16 plus whatever it costs to ship them back, which shouldn't be too much since they don't look very heavy.
What do you think? Does The Volumizer work or not?