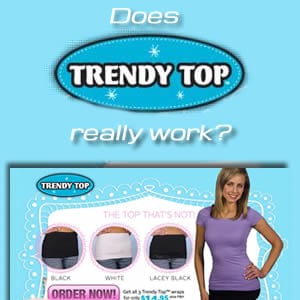 Trendy Top is designed to cover your midsection, so you don't have to worry about having people see your midriff, or sneaking a peek at your panties when you bend over or sit down. It also claims to help cover up the dreaded muffin top condition, so you won't have to worry about wearing those outfits that don't flatter your midsection. But does it actually work as depicted in the infomercial, or does it create just as many problems as it solves?
Overview
No one can deny that many women suffer from the experiences depicted in the advertisement. Many shirts and tops ride up, revealing the tummy area and also the lower back. The problem is exacerbated by many of the low-cut jeans that we like to wear because they fit well, but aren't very flattering when it comes to certain areas. So between shirts writing up, and pants riding down, we're basically on display even though we don't want to be. The Trendy Top hopes to be the solution so we can get on with our lives.
The Claim
Basically the makers of Trendy Top claim that they cover up important areas that lowrise jeans expose, and midriff revealing shirts show off. It's actually not a top at all, but is designed to fit around the waist and hip area, staying in place when your pants and shirt let you down. If you combine this with Cami Secret you'd basically be covering up your entire middle to upper body, because they both worked in a similar fashion to covertly cover areas of the body that attract unwanted attention.
They also say that the Trendy Top is super comfortable, which doesn't really look like it would be seeing how it is designed to wrap around your midsection and stay in place.
The Hype
Although this product does seem to solve a common problem, the problem itself is rather peculiar. Low rise jeans and revealing tops are meant to show off the areas in question, basically a sexy midriff and lower back. The problem arises because many of us buy these trendy clothing items without having the body to pull them off. A better solution might be to buy pants and tops that fit the way they should, and keep these areas covered naturally.
The Cost
For $26 you get the Trendy Top in four different colors, which includes shipping and a special bonus. If you disregard the bonus it's about $8 or so for each one, which isn't a bad price and will keep you well stocked with all the different colors they make so you can mix and match with your wardrobe.
The Commitment
You have to be committed to actually wearing the Trendy Top in public, and making sure that it actually looks good and goes with what you're wearing. Sometimes it looks as if you're wearing a back brace if you don't properly covered up with your top, or make it coordinate with everything else you're wearing.
Evaluation
These are made from a stretchable cotton blend, so you'll definitely notice that you're wearing it, it sort of feels like an ace bandage wrapped around the midsection. Since you're supposed to be breathing with your diaphragm, you'll definitely notice that you're wearing this as your breath goes in and out. Some have likened it to a corset, and it's definitely a little constricting. After a few hours of wearing it you do get used to it, and it's hardly even noticeable.
Of course there are those that say they didn't like it, or it didn't work for them, or wasn't what they expected, but the vast majority of people that try it out say that they like it, and are happy with their purchase. You can't please everyone 100% of the time, but it seems that the makers of Trendy Top are trying to do the best they can in regards to providing a quality product at a reasonable price.
Final Trendy Top Review
Trendy Top works as depicted, and their offer is not too bad considering what you get. If you've been bothered with some of your outfits, always tugging at the bottom of your shirt trying to keep it where it's supposed to be, or pulling your shirt down when you kneel down or bend over so people don't get a peek at your thong or underpants, this will provide relief.
Our Recommendation
Most likely if the advertisement resonated with you, you'll probably like Trendy Top. We were a little skeptical before trying it out, thinking that it wouldn't stay in place, and would either ride up just like a tight shirt does, or ride down just like jeans sometimes do. However, with the material they use it does stay in place, without being uncomfortable, and it does cover up the parts that you don't want others to see.
Official Website: Trendy Top
What do you think? Does Trendy Top work or not?