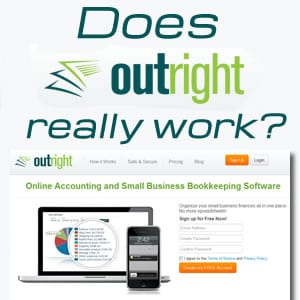 Outright is a sort of Web 2.0 way of keeping track of your small businesses' financial records. By linking up with some of the most common ways business owners use to conduct their operations, its job is to link them all together in one interface so you can get a snapshot of how you're doing, but also dig deeper to find more answers. But does it work as well as they say it does, and will you be satisfied enough to stay on after their free trial?
Overview
You work hard on your business, but you don't want to spend a ton of time balancing your books, pulling your hair out over your budget, or wondering if things are alright financially. This is especially true if you're one of those right-brainers, that wants to focus on the creative side of the business, and you'd rather watch paint dry than sit down and crunch numbers. The folks at Outright are hard at work trying to make accounting easier for small business owners.
The Claim
Outright claims that it can take the hassle out of doing your bookkeeping so that you can get back to the more important, more fun stuff. They say that they are free, with no credit card required to sign up. They also claim that it's easy to get started and set up, that you don't have to manually input everything, and that you can import all of your data from things you already use.
The Hype
They hype is that there is a seemingly never-ending line of accounting software hitting the market, and each one seems better than the one before it. Not only are there new competitors entering the arena, but the old standbys are always coming out with new versions that improve on what was already working. Trying to sift through it all, listen to so many pitches, and try to compare different features can make your head spin.
The Cost
If you want to use the additional features and tax forms, it's just $10 a month for Outright Plus. If you find that you can get by with a free account, you're not under any obligation to upgrade, and can keep it free indefinitely. A rep from the site says that most people happily use the free account, and only a small subset upgrades, so it would appear the majority of their features and functions is not under lock and key.
The Commitment
They try to make the process as pain-free as possible, but you'll still have to be the Commander in Chief when it comes to managing your business. The tools they have definitely take some of the agony out of bookkeeping, but you must take the time to set it up, which only takes a few clicks, and you also have to be the one to figure out what it all means about where your business is headed financially.
Evaluation
The system integrates well with the different businesses people are in, and they also realize that not everyone uses the big boys like eBay, PayPal, Etsy, etc. so they make sure that you can add the miscellaneous services too, and if they can't handle your needs, they allow you to notify them so that can start working on providing it in the future.
The user interface is really nice, and it definitely lays things out for you so you can get a better, quicker idea of where your money is going, how much is coming in, how much is going out, expenses, income, and all the basic stuff. We linked our PayPal account to it, and the data was much easier to view, and we had a much clearer idea about our financial status than we had 5 minutes prior to linking the accounts.
Secure and Safe
All of their pages are encrypted and we felt secure enough linking our account with it. PayPal assured us that the really sensitive data like our Debit Card and account numbers would not be shared, so they are just getting the details of the transactions we make, so it's not that big of a risk. This is the data we really needed analyzed so it is set up pretty intuitively, and they've already thought of the concerns business owners would have about their secure data.
Final Outright Review
We definitely like Outright, and for us it works. You might have a special case that they don't quite cover at this juncture, but for the majority of people out there, they will be able to link your bank account, business credit or debit card, as well as the most popular services out there like eBay and PayPal. In just a few minutes after signing up, you'll see your business presented to you in a new, more precise way, and you'll be able to make better, more strategic business decisions going forward.
It gets our Thumbs Up.
Our Recommendation
Definitely take advantage of the free trial offer. It's really the only way you'll know if Outright is the right choice for your particular line of work. Once you have your company's figures inputted and have tried out the features for 30 days, you'll definitely know whether or not you want to stay on with it or let it go. Far be it for us to tell you whether or not this product works for your business, give it a try and see what you think.
What do you think? Does Outright work or not?