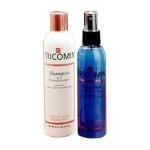 If you've noticed you have a thinning hair problem and have stumbled onto the Tricomin site, you no doubt wondered if it could possibly work. With so many products to choose from, each with their own take on why you're losing your hair and how to stop it from happening, it's important to get as many facts as you can before making a purchase. This is especially true when something costs as much as Tricomin does.
Overview
There are a dizzying number of products on the market that all promise to help you keep your hair on the top of your head, or help you overcome that dreaded bald spot in the back of your head. Each of these seems to take a different approach, and to tackle the problem from a different angle. Some try to treat it from the inside with pills, others require you to rub a lotion or some foam directly to your scalp.
Tricomin is applied by shampooing and conditioning your hair like normal, but with their specially formulated products. They don't require you to take any pills, but there is a spray involved that is meant to strengthen your follicles.
The Claim
Tricomin claims that you can combat your thinning hair problem with their product. They don't go as far as saying they can bring back your hair that you've lost. That would be a bold claim indeed. They say that their system strengthens the root of your hair as well as its structure.
They also say that it protects your hair and restores balance. They further state that years of research have gone into their products, and they have a wide range of products to match the problem that you are experiencing.
The Hype
Tricomin is still in the phase where they haven't received a ton of hype, and not too many people are talking about them. With many hair loss products, those that show a sliver of hope will spread around the blogosphere as positive reviews get passed around like wildfire. Guys are always on the lookout for the next breakthrough product to help them out in this area.
The Cost
Tricomin is relatively expensive for what it is. The shampoo is $25 per bottle, and the corresponding conditioner is $29. If you go with the follicle spray you can expect to pay almost $70 which makes the complete set well over $100. This seems rather excessive for a fortified shampoo set. There is a saying in sales that you can add value to a product by setting it at a higher price, but this is almost criminal.
Even if it had stellar results, its not as if it has anything in it that is patented, or a drug in it that is certified to work like with Rogaine.containing Minoxidil and approved by the FDA.
The Commitment
Like any topical product, you'll have to apply it as directed to see any results. This is not just a pill you have to take, or a wand you have to wave around your hair, but since it functions like the shampoo and conditioner you've been using all of your life, it's very easy to incorporate into your daily routine.
Evaluation
Tricomin consists of three main steps: shampoo, conditioner, and a follicle spray. If price is anything to go by, the most effective of these would be the spray because it is more than twice the price of the other products. It is made with a copper solution that is claimed to have been clinically tested and proven to work.
Final Tricomin Review
Tricomin is reported to work, if you can shell out the big bucks for it, and apply it religiously. There are mixed reviews on it, which is natural in this industry. There are so many different types of scalps and varying degrees of hair loss. It's almost impossible to get conclusive advice as to whether a hair loss treatment will work for you specifically.
There is one area of concern, the negative feedback is extremely negative, with some users saying that using Tricomin made their hair fall out and worsened their condition. It is not clear exactly how reliable this information is, but when you get more than one person saying the same thing about a product it is something to look more deeply into. You don't want to pay all of this money for something to have it make you lose your hair even more rapidly.
Our Recommendation
If you're just starting to see a thinning hair problem, you might be able to put a dent in its progress by using Tricomin. If you have a severe problem you might not get enough help from it to make a difference. If you can afford to try Tricomin, some users have reported that it does a fantastic job and has strengthened their hair and does exactly what it's claimed to do.
What do you think? Does Tricomin work or not?