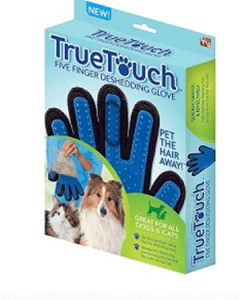 Are you an animal lover? Do you love cats or dogs? If so, are you a pet owner? If you've answered yes to any of these questions, especially the question about being an owner, you already know the benefits and advantages of having a pet in the household. A dog, a cat, or a variety of other type of animals can become part of the family, but along with the enjoyment of having a pet there are also the responsibilities that you must take care of as well. If you have an animal that sheds hair in any way shape or form, then you have to find a way to clean up after them, and one great new way to do so is with the True Touch Deshedding Glove.
Overview
The True Touch Deshedding Glove allows you to gently rub your animal, while at the same time removing hair that is ready to be spread all over the home, unless well contained. It's a pretty easy concept and what makes it so great is that because it comes in a glove form, your animals will find it easier to adapt to compared to other types of brushes.
The Claim
Many times using a brush that is able to remove hair from your pet can sometimes be uncomfortable for your animal. What makes True Touch Deshedding Glove unique is that you simply have to massage your pet, and unwanted hair will stick to the glove and you simply have to roll it off to remove it, put that in the garbage, and start over again.
The Hype
With the True Touch Deshedding Glove there is really not a whole lot of hype that you can associate with this product. You are able to put your hand into a five finger glove and massage your pet with 180 soft silicone grooming tips that will help you not only provide your animal with the ultimate massage, but you are also able to take out any loose hair and follicles, so by the end of the treatment you are able to remove the unwanted hair and throw it away.
The Cost
The cost of the True Touch Deshedding Glove at the As Seen On TV website is $19.99 but unbelievably if you check out Amazon you can find same glove for $5.99
The Commitment
The commitment of the True Touch Deshedding Glove is that while you gently massage your pet, you'll be able to reach into the areas where you are not able to get through to with a normal brush. It really does allow you to get into areas where a brush wouldn't be comfortable for your pet but with the glove you are able to really scratch the areas and get rid of the hair that you might not be able to with any type of brush.
Evaluation
After checking out the True Touch Deshedding Glove, it really looks like a product where you are able to not only provide your animal with some extra love, you are also able to clean up all the hair around them, and this can make it extremely beneficial for any type of animal lover.
Final True Touch Deshedding Glove Review
Nowadays having a home with a family and a pet can be very taxing when it comes to keeping the home clean. Anyway that you are able to help with this job means that everybody has to pitch in. If you have a dog or cat and they shed hair, having the True Touch Deshedding Glove can be something that you can all use together in the family so they're all able to help take care of the problem of unwanted hair.
Our Recommendation
As an alternative for handling the shedding dog you may want to take a look at Shed Off.
What do you think? Does the True Touch Deshedding Glove work or not?