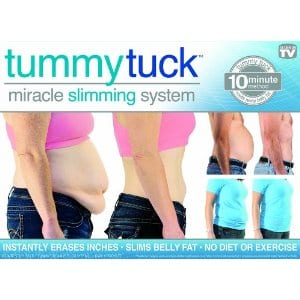 The Tummy Tuck Belt has a seemingly irresistible TV ad, but how does it really measure up when you get it home and put it to use? It can be hard to sift through all of the feedback it's been getting, and harder to know which reviews are legit and which are just shills. So we put on our detective caps and went to work for you.
Overview
It must be fun to be the manufacturer and marketer of weight loss gadgets. It seems that all you need is the thinnest amount of believability, a flashy advertisement, and a website for order taking and you're in business. This is because we're seemingly desperate for something to come along and save us from the torture of eating right and getting exercise. It's definitely a product of our modern upbringing, because our ancestors had no trouble getting all of the activity needed in a day, and didn't have to battle with things like fast food, junk food, and colas.
The Claim
The makers of the Tummy Tuck Belt are claiming that you can slim away belly fat by using this just 10 minutes at a time. They're not the first slimming belt to make these claims, but they do a good job of making it seem like theirs has undergone some serious testing by major universities. Of course they don't disclose the names of these schools, and don't really give too many details as to the findings, but at least they're making an effort. Some belt purveyors don't even go that far.
The Hype
The hype comes not just from the TV promo, but also from this being one of those weight loss gadgets that says working out is optional. Any time you give people the option between using a product, and using a product plus doing regular exercise and changing their lifestyle, they're going to pick the latter. There's really no shame in this, it's part of the American psyche and the human condition in general. Instant gratification is always preferable to deferred gratification and consistent effort.
The Cost
The official price of the Tummy Tuck belt is $48 which includes shipping. Plus unless you shut if off they'll auto-enroll you and send you another order of cream to be used with it and charge you $27 every two months. You can bypass the whole mess and get it from other online retailers, but at this time Wal-Mart is sold out of them, and Amazon has them for $7 more. Spoiler: Out of 50 reviews over half gave it one star.
The Commitment
The daily commitment level would be the stated 10 minutes, and how many days you use this will depend on your specific goals and results. The lack of commitment is one of its huge selling points, and the reason why it attracts 90% or more of their buyers. This is the ultimate in armchair fitness. Of course you could always amp up your results by watching what you eat and getting exercise, but at that point how can you determine what is causing the results?
Evaluation
The biggest complaint we found after analyzing review data is that this thing is a real chore to put on. Psychology tells us that if something is hard to do, or complicated, people won't do it. It's a nice thought to think that you'll be able to overcome it every day and persevere, but the reality is that most people will quickly tire with the struggle and relegate this to the heap of other products they bought and didn't have luck with.
The Tummy Tuck Branding
The marketing department at Tummy Tuck Belt headquarters was definitely trying to make a statement by taming this after a surgical procedure. Many people may want to get a tummy tuck, but can't afford it or don't want to go through the pain involved. By naming their product after the procedure, putting it at a far more affordable price, and making it far less painful, they are trying to entice people to try this first. But a tummy tuck is not designed to remove fat, that's the job of liposuction. A tummy tuck helps with the excess skin that is left over, which this belt will not help with.
Final Tummy Tuck Belt Review
The Tummy Tuck Belt is getting the Thumbs Down as it over-promises on what it can do, and under-delivers when put to real world use. Reviewers and critics alike were pretty much unanimous in their panning of this product, and we were unable to locate a non-paid person that said it works and they'd recommend it. In fact, there are even those that were sent free units in exchange for an unbiased review and they ended up saying they wouldn't buy it. Ouch! Guess they should have been more strategic with who they sent it to.
Our Recommendation
Of course diet and exercise is the way to go, but the truth is that most people aren't willing to put the time and effort into it to get the results they really want. There are products that can be helpful in keeping you motivated to stay with healthy eating and a fitness regimen, but this will not be one of them for most people. If you're bent on using a slimming belt, check this one out at Amazon: it's a weight loss belt with better reviews at a far better price.
What do you think? Does Tummy Tuck Belt work or not?