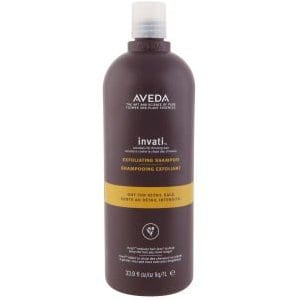 Invati by Aveda is presented as a solution to thinning hair using natural ingredients and a variety of products. It's somewhat rare to see a product like this that can be bought online, but also in-store, and with the help of a consultant. It's been making strides and gaining in popularity so we explored further to see what the fuss is about, and whether it really works or not.
Overview
When your hair starts to thin it can be a real blow to your confidence. Men's hair care gets most of the attention, but more and more we're seeing that it's a common problem for women. Most of the time women are added as an addendum to male hair care, so it's nice to see a product that is specifically formulated to help treat a woman's hair. It's also nice that they are acting responsibly as a company and are following the Cradle to Cradle concept.
The Claim
Invati claims that their products can help breathe life and vitality back into limp and thinning hair using all natural ingredients. They stress that 97% of their ingredients are naturally sourced, and that it is safe for all types of hair. User feedback suggests that some hair types might be better suited for it than others, but for the most part this claim seems valid.
The Hype
Products designed to help with thinning hair don't need any hype. There's already a motivated market that is ready to pounce on anything showing signs of working. With the relatively good feedback that this has been getting it's no wonder that more and more people are wondering if it really works. Since this is developed and targeted at women it's getting that extra boost of buzz because we're pretty good at letting each other know when a product is a good buy or not.
The Cost
The Invati shampoo and conditioner are $24 each, with the scalp revitalizer at $60 for a package price of $108 which includes free standard shipping. One nice feature is that rather than stick you in an involuntary auto-ship program, they let you opt into one if you want to make sure that you'll have a ready supply. They let you decide whether you want to receive it every 30, 45, 60, or 75 day increments. Or you can just choose to buy it as a one-off purchase and see how it goes from there.
The Commitment
Hair care is one of those things that you really have to stick with if you want to see the best results. Even on products that say they're meant to work quickly, you'll want to make sure that you follow the recommended directions and keep it going over a longer period of time. Perhaps you might see some early improvement, but try to reserve your judgment for a few weeks and then make up your mind from there. With these products you're recommended to use them daily, and as a package deal, which may require more involvement on your part if you're used to less frequent use.
Evaluation
The makers of Invati seem to really be doing their best at bringing you quality ingredients that are known for their healing properties. For example, their shampoo and conditioner contain Ayurvedic herbs that are meant to cleanse and stimulate the scalp. Ayurveda is an ancient art of well-being originating in India and focuses on bringing the body to a more natural state so that it can use its own natural healing abilities. This would be much more preferable than using a product with a lot of Space Age man-made ingredients that end up irritating the scalp and are so new they haven't been tested.
It's nice that you can visit a salon and even have an initial consultation on the course of treatment you should take. Most products like this make you go through a process of trial and error, picking out things that you think are best, trying them out to see how they fare, and then keeping what works and losing what doesn't. Having someone guide you through the initial selection process is definitely a feature many of us would appreciate, as it cuts out a lot of wasted time and money.
Final Invati Review
Of course results will vary for each person that tries Invati, and this is due to a multitude of factors. There will be some that get a consultation at an Aveda salon and would likely have better luck with it than someone that just starts using it without an in-office visit. Plus there will be those that only try it once or twice, compared to those that use it as directed for longer. With all of that taken into account it seems that the consensus is that it's likely to produce acceptable results for most users, earning it our Thumbs Up review.
Our Recommendation
There are several ways to help out a case of thinning hair, and cleansing and purifying the scalp represents an outward-in approach. Just remember that a big portion of the health of your hair is decided before it even reaches the surface, so be sure that you are getting proper nutrients to your hair with a proper diet, or perhaps supplements designed for that purpose. Taking a holistic approach is the way to go, and that even includes things like reducing your stress levels, and possibly detoxing your body through cleanses.
What do you think? Does Invati work or not?