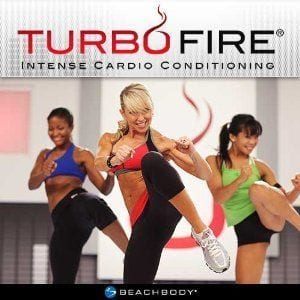 Turbofire is an intense aerobic exercise program from the folks at BeachBody. They are masters at analyzing the fitness industry and finding out what people really want. In this instance they are taking a shot at the dire need of an aerobics program that doesn't suck. Their answer is a series of 14 different workouts, ranging in length from just 10 minutes all the way to 55 minutes. With music that is designed to keep you inspired and pushing yourself, is this the one aerobics package you've been waiting for?
Overview
Aerobics and cardio almost have a negative connotation to them because people just can't stand them. They are synonymous with drudgery, monotony, and for some grueling pain. But this program is trying to revamp the image, and cut out all the unnecessary time that's spent doing cardio the old-fashioned way by spending long periods of time on a stationary bike reading a magazine wire legs leisurely pump away on the pedals. By focusing on the intensity of your workout for shorter periods of time, you can get better results without spending heaps of time doing boring activities.
The Claim
They say that Turbofire is nine times more effective than doing ordinary cardio, and that it uses what's known as High Intensity Interval Training, so that you get what they called the "afterburner effect". This is also known as HIIT and it is a well-documented way of doing cardio, and it breaks the mold of traditional methods of low intensity for long periods of time. The methods says that you should get your heart rate up and intervals, and that you don't need to spend a long duration to do so. The aftereffect is that you end up burning calories long after you stopped physically working out.
Sorry Guys, Ladies Only
Even though they show a guy in a TurboFire tank top for those that send in their before and after photos, he's the only example of a man being featured anywhere in the program. This is an empowering program for women, showing that they can bring power and intensity to a workout. For the men out there looking for something similar with a little less estrogen you should try P90X2.
The Cost
Turbofire is $145 all together, including shipping. Considering all that you're getting, and knowing that it is coming from BeachBody who consistently over deliver on their products and programs, the price is neither too high, or too low. The best part is you are able to get in your home and evaluated for yourself before deciding whether or not you want to keep it. It is in their best interest to provide value for the dollar so that you end up keeping it.
The Commitment
You'd better be ready to be fit after you get this. But it's not going to come easily. Aerobics is one of the hardest things to stick with long-term, but can keep it fun and stay motivated by tracking your progress, you should be able to see it through for a long time.
Evaluation
Turbofire is fun, but intense at the same time. If you've always viewed intense as a negative thing, be prepared to turn that thinking around, because they have figured out how to make it fun, so that you don't get turned off by it and stop the program. The host does a good job of keeping you motivated, while also pushing you past your limits and out of your comfort zone. This is a hard thing to do just using your television, and not being there one-on-one with you like a regular personal trainer.
How to Have Fun with This
If you start looking at this as another challenge that you have to overcome, you'll probably lose interest in it. With 14 different programs to choose from, you can look at it like a cafeteria. Each day take a look at all that's on offer, and choose which one you feel like. That way you are listening to your body, keeping things fresh, and keeping yourself from getting burned out on one specific program. You can also record your thoughts and your progress each time you complete a workout to identify any weak areas in your training, and to see how at first maybe you didn't like one of them, but as you got more and more fit you started liking it more and more, showing growth and development, not just physically, but emotionally and psychologically as well.
Final Turbofire Review
Turbofire is another success from the BeachBody production machine. They've really cracked the code as far as finding and unmet need in a niche market and meeting that need with a quality and well polished product. You can tell that they don't just rush their products to market either, and a lot of care and attention as well as the latest in scientific research and fitness education has gone into it. They are always pushing the envelope as far as showing people new ways to work out more effectively and get more results in less time.
Our Recommendation
Turbofire is best suited for those that have reached a plateau as far as their aerobic training goes, and are looking for a new challenge to get them back on track. It would also be good for those that have always wanted to do and aerobics program, but didn't like the idea of spending 40 minutes to an hour doing repetitive and boring exercises.
Official Website: Turbofire
What do you think? Does Turbofire work or not?