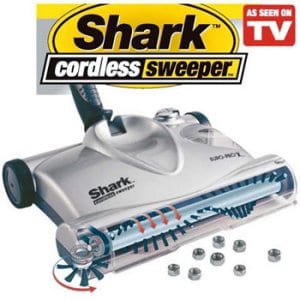 The Shark Sweeper is a cordless way to get loose dirt and dust from your hard floor surfaces, as well as the carpeting. It does this by using a wide 13 inch brush that is designed to kick everything into it so that you don't end up pushing stuff around the floor, making a bigger mess than when you started. One day kids will ask what a broom and dust pan were, and this is the sort of product that is rendering them useless.
Overview
Messes happen. Floors get dirty. It's just a part of life, and it's one part that has no shortage of companies trying to make life easier for us. The way it's looking, in the future will either have a house full of gadgets, each with their own very detailed and specific functionality, or we'll have one product that cleans every single thing in our home. It's about a 50-50 split as it stands today. The shark sweeper would represent the first future described, as it is designed to be something to bring out when you don't want to use your vacuum, but you need something more powerful and effective than a broom and dust pan.
The Claim
The Shark Sweeper claims that it's wide motorized brush will keep things easy for you by being a portable solution you can quickly use around your house to clean up quick messes that you can't justify bringing out the vacuum. They say that with its two different speed settings you will be able to easily and effortlessly move between the hard surfaces in your kitchen to the carpeted surfaces of your living room, bedrooms, and other areas.
They claim that because it is rechargeable, and holds a charge of up to 50 minutes cleaning time, you'll be able to clean up your whole house without having to plug it back in. Their dustbin is said to be no-touch, so you don't have to worry about struggling with it, or getting your hands dirty. They say that it empties by simply pressing one button. If you've ever tried to use a sweeper like this before, you've probably realized that the inch or so next to your floorboards doesn't get properly swept. But Shark has a patented process for getting right up next to your walls. It has a special brush on the side of it that accomplishes this task.
Of course you wouldn't want to use this if it weighed a ton and you had to lug it all over your house, so they say that they've kept things light weight – even with a motorized unit – so that you can easily handle this without being bullied by it. It swivels around so that you can maneuver it without a lot of struggle and they gave it a low profile so that it doesn't get smashed when you try to work it under different furniture.
The Hype
Shark is making a big entry into the cleaning industry with a successful line-up of various cleaning products. With so many big names already on the market, it's neat to see that a newcomer can find a place as long as they produce quality products, and offer good after-purchase support.
The Cost
Shark Sweeper is $60 at Amazon right now. That's for the V1950 model, with the features we discuss on this page.
The Commitment
Compared to the old broom and dust pan this should make your life a little easier. It basically does both jobs at once, and with it's pivoting midsection you don't have to stoop over to get under things like tables and chairs. It should leave you feeling more refreshed after a round with your daily chores.
Evaluation
The Shark Sweeper gets mixed reviews, with one consensus being that it is no solution for pet hair. Pet hair takes a special kind of product specifically designed for it in most cases, so perhaps this isn't the best buy for that purpose. In regards to other features, they said that the pivoting angle has a tendency to break. Overall, it's not the best reviewed product that Shark has put out to date.
The Perfect Sweeper
The perfectly designed sweeper would be one that picks up anything presented to it, both big debris, as well as fine particles. It would get under furniture easily, suck everything up, be easy to empty, and be durable and reliable after many uses. They seem to have the right idea with this, but unfortunately the execution didn't follow though on the concept. Sometimes that happens, and perhaps they're spreading themselves a little too thin.
Final Shark Sweeper Review
The Shark Sweeper is an alright buy at this price, but certainly not their best work. Although some have said that it works, most have said that it either breaks too easily, and too many times, or that it's so ineffective they don't want to use it any more. So take a pass on this one, but don't judge the Shark line by one miss, they've got several hits that deserve your consideration.
Our Recommendation
The Swiffer Sweeper Vac gets our recommendation over the Shark. It has more features, better results, and more positive feedback from users. They took the successful Swiffer Sweeper that rocked the industry and led to the demise of the broom and dustpan, and added the vacuum functionality to it. That's a recipe for success, and they knocked it out of the park.

What do you think? Does Shark Sweeper work or not?