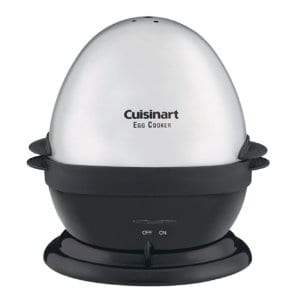 Cuisinart Egg Cooker is hoping that you'll choose it as your egg cooking solution. You have a lot of different options to choose from here, some up and comers just entering the market, as well as well-established brands throwing their name in the hat. Cooking eggs seems to be a common problem for most at-home chefs, so let's see how this model differs from the competition, and whether it's worth a purchase.
Overview
For a while eggs were thought of as an unhealthy food, and that it raised your cholesterol to unhealthy levels, but more and more they're finding out that eggs are one of the more nutritious options for you, and that the cholesterol that they contain is not the worst thing for you to have. They still say you should limit your egg intake to a few per day but the amount of good fats, protein, and other nutrients found in the yoke is something that most health practitioners are putting their support behind. Combining this with an easy way to cook them and you can up your intake without a lot of struggle.
The Claim
The Cuisinart Egg Cooker says that it can poach or hard boil seven eggs at one time, with very little involvement from you. They say that it contains all of the elements you'll need to cook perfect eggs, including a beaker that shows you how much water to put in, and a pin to pierce the eggs so that they don't end up cracking prematurely and ruining the eggs. Piercing also helps during the peeling process, because the peel won't pick to the egg as much.
They have also built this so that you really don't need to pay any mind to it once it starts going. There is a light that gives you a visual cue as to when they're done, but you can also walk away from the unit and it will signal that they're finished with an alarm. It will also shut itself off when they're complete so you don't have to rush to it to turn it off.
Eggs-actly Right Eggs
Products like these wouldn't exist if it weren't for the fact that making eggs is a big pain in the you know what. The entire process of boiling eggs, and then keeping time on how long they've been cooking so you don't over cook or under cook them can be a real drag. Many times you end up getting it wrong and you end up having to start a brand-new batch from square one. Eggs have to be just right in order to taste good. If you want a hard-boiled egg and end up getting a yoke that isn't cooked all the way through, it can be a pretty nasty experience. If you wanted a medium boiled egg, but find that the yoke is cooked all the way through, you'll be equally disappointed.
The Cost
Cuisinart Egg Cooker is $30 at Amazon, it is a self-contained unit with everything you need to properly cook eggs. For a more economical model, Egg Genie beats it on price, and has been tested and shown to provide quality results as well.
The Commitment
You should experience less frustration from cooking eggs, and be able to do other things while they're cooking without keeping your mind on how long they've got until they're done. You may think that this is a trivial upgrade, but until you try it and realize the joy of not having to think about them anymore, you'll see that it is actually an important tool to have. For many would-be chefs, learning to multi-task and delegate responsibilities is the key to taking things to the next level.
Evaluation
The Cuisinart Egg Cooker is getting mixed reviews, but mostly positive, with many people saying that it cooks the perfect egg and that they've used it consistently for long periods and it still delivers. Cuisinart is known for making high quality kitchen appliances at reasonable prices, and it seems that they've done it again with this handy machine.
There are some complaints with it, one being that it opts to use plastic rather than metal for some of its parts. The other complaints don't really have much to do with the unit itself, and are more about problems with receiving the wrong product and can be disregarded as irrelevant. The vast majority of reviews that talk about this model itself and its functionality are resoundingly positive and lavish praise on it.
Final Cuisinart Egg Cooker Review
Cuisinart Egg Cooker is a good buy, and can consistently make perfect looking and tasting eggs without you fussing over it, or having to keep a mental tab on it. Getting down to the less important features, it's got a sharp look to it, with the brushed stainless steel surface, egg/dome shaped design. It looks pretty futuristic on your counter and goes nicely with any other stainless steel surfaces you have.
Our Recommendation
If you don't want to take up the counter space with this unit, you can always go with a newer method of cooking eggs, or a top-rated egg cooker that always produces great results, the Egg Genie. We ran an in home test on this one and found that the results were pretty impressive for the price. Sure, it's not as pretty as the Cuisinart model, but with all else being equal, saving a few bucks might be worth it.

What do you think? Does Cuisinart Egg Cooker work or not?