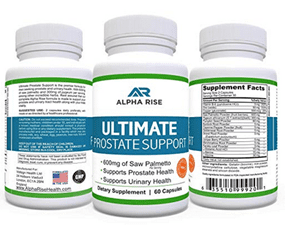 Men worry about their health just like women do. They need resources to products that can help them and one of these categories of products falls within prostate health. For some, they may find Ultimate Prostate Support to be a solution for some prostate issues they may be dealing with.
Overview
The Ultimate Prostate Support is a supplement that is a combination of saw palmetto and Pygeum. This support is designed to help with some of the prostate problems that are very common as the need to frequently urinate.
The Claim
The promoters of Ultimate Prostate Support is recommending a health prostate regime that includes using this product. They take pride in saying that they are transparent with the ingredients contained in their product include how much of the ingredients amount to. The promoters are also alluding to this product perhaps helping with better performance in the bedroom.
The Hype
The hype is really all about the amount of relief that the Ultimate Prostate Support can bring especially when it comes to the frequent urination issues. This something that a lot of men find to be frustrating and embarrassing.
The Cost
An individual buying Ultimate Prostate Support can expect to pay $28. With a money back guarantee.
The Commitment
The commitment first is to check with your health care provider about any health issues like frequent urination. This way the physician will check out any other potential prostate health issues. If there is nothing wrong other than the need to urinate frequently, then the individual can give Ultimate Prostate Support a try.
Evaluation
Not only do a lot of men get frustrated and embarrassed with the frequent urination issue it can affect their health in other ways. More often than not, they end up having their sleep disturbed because of the need to go to the bathroom. Some guys find that once their sleep is interrupted, they can't get back to sleep easily. This can affect their daytime routine making them feel tired and irritated. With a product like Ultimate Prostate Support, this may no longer be an issue.
Whenever a product is designed to deal with some health-related issues, then the results expected can vary. This is because each person is unique. The Ultimate Prostate Support is a product that has been on the market for awhile and does have some positive feedback. It has a 3.8 out of five-star rating. With 51% giving it a five star. This is an indicator that while this is a good product for many not everyone is going to get the same results.
Final Ultimate Prostate Support Review
We are prepared to give Ultimate Prostate Support a thumbs up rating. It has some good feedback. It also has a lot of natural ingredients in it, and the company is transparent as to what the product is comprised of as well as the amounts of each ingredient. This allows users to make a more informed decision.
Our Recommendation
Prostate health is a topic that we have covered with products quite often. For more options check out our section on prostate health.
What do you think? Does Ultimate Prostate Support work or not?