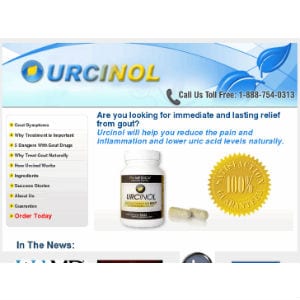 Urcinol is presented as an all-natural remedy for gout, and says that it can help with your uric acid levels and diminish the symtoms that come with gout. But what do real users think?
Overview
Gout can be a very debilitating condition, and preventing flare-ups is key. While it's always best to consult with your doctor regarding your gout, it doesn't hurt to seek out a natural solution so that you don't have to resort to taking prescription medication. In addition to watching what you eat and avoiding foods that can trigger a flare up, taking an all natural supplement seems like a very smart way to go. As long as it works, of course.
The Claim
The makers of Urcinol state that it acts to lessen the amount of inflammation you experience, and reduce the amount of pain that comes with gout. They say that you'll be able to better metabolize the purine in your system, and that you uric acid levels will be lowered in a safe and natural way. They also say that it helps to prevent crystal build up in your urine, in your joints, as well as your kidneys due to excessive uric acid.
They say that this works to remove the cause of the painful symptoms, so that you have prolonged periods of wellness and avoid gout attacks in the first place. They also claim that their formula uses all natura ingredients, and provides a comprehensive treatment.
The Hype
If you've experienced a gout attack you know that there's no way to hype up the suffering caused by this ailment, so there is a strong motivation to make sure that it doesn't happen again. Companies like to use these strong desires in order to position their products as potential saviors. That's why it's a good idea to do your research on any product claiming to be a miracle cure in a bottle, and keep a level head.
The Cost
A one-month supply of Urcinol is $40, and they have a few different ways to bring the cost down. You can either sign up for their auto-ship program where they send you a new bottle each month, which gets your per bottle cost down to $30, or you can buy them in bulk and get basically the same discount. Order 3 at a time and they're $30 each. They have a 90 day money back guarantee, but they ask that you try it out for at least 30 days before making up your mind.
The Commitment
This is a supplement that you take daily in order to keep your uric acid levels in check. If you find that it works for you it's something that you'd want to take long term in order to prevent a flare up. They do want you to try it out for a full 30 days, and this is something we see often with products that use all natural ingredients. Unlike a prescription drug that starts working the moment you take it, natural ingredients generally take take to build up in the system and produce the desired results. So even though it's billed as an "instant relief formula" you should be patient, which can be hard to do when you're in pain.
Evaluation
Our big question is what are users of Urcinol saying about how well it works, and are there any meaningful statistics that show it has a high likelihood of working. We weren't able to give it our highest rating due to a lack of data, but what is out there points to it being able to work, we just need a larger sample size. However, with the guarantee that they provide, we were able to give it our second highest rating, since there is a strong chance that it will provide you with the results it promises.
One aspect that you might not be comfortable with is the idea of taking a pill, any pill, for the rest of your life. This is something that you could experiment with as you get further along with the product. Finding your specific maintenance dose would be helpful, and you may find that by eating the right foods, avoiding the wrong foods, and reducing this to every other day would provide the same benefits.
Final Urcinol Review
Urcinol is getting our Solid Try rating. The feedback it gets suggests that it does work, as long as you use it while making dietary adjustments, and for more than just a few weeks. Look out for other "reviews" that compare it to other gout remedies and give it a lower marking in an effort to boost up the one they're promoting. Everything we found suggests that this is a helpful way to treat symptoms and prevent future attacks. Of course every person is different, and each case of gout has its own severity level, which is why it's nice that this comes with a money back guarantee in case it doesn't work for your situation.
Our Recommendation
Gout requires a comprehensive approach in order to treat it successfully. While they say that this product provides that in pill form, it's still a good idea to follow your doctor's advice in regards to what you should be eating and what you should stop eating. If this can help to reduce the need for prescription drugs, or eliminate them entirely it would be highly recommended, but of course always listen to your doctor, just express your desire to treat it as naturally as possible.
What do you think? Does Urcinol work or not?