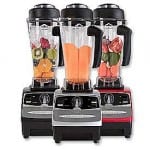 If you consider yourself a kitchen pro you've probably thought of picking up a Vitamix blender. With all of its different capabilities, it's hard not to wonder if it actually works. With it's higher price point, it's a very valid question to ask to make sure you don't end up with buyer's remorse.
Overview
Everyone loves having a really good blender in the home. Whether they want to use it for making delicious mixed drinks when hosting a party, or if they want to make things from scratch like soups or sauces for pasta. Most recipes call for some form of chopping and blending of ingredients, and that makes a blender the crux of good home cooking.
The Claim
Vitamix is a brand of blenders that takes things a step further. Of course it does the regular things like blend, mincing, and pureeing, but it also goes beyond these and does things like blending and cooking soup, and grinding grains to make homemade bread with. The claims made are that the Vitamix can replace other appliances in your kitchen.
These claims aren't made outright by the company, but it's understood that this is what it can do. The actual company is rather calm and not outlandish in it's tactics. They focus on healthy eating mostly, which is quite refreshing in a world full of over-promising and under-delivering.
The Hype
If you've seen the ads on television, you've probably seen the claim that you can make soup with the Vitamix. They show them drop in some freshly steamed broccoli, some milk, some cheese, and some hot water, and voila, you have broccoli cheese soup.
The Cost
The Vitamix is on the more expensive side of the scale, and retails for $449 for the basic model. You can get a refurbished model for a little less, but this cost savings is negligible when you consider that this is something that you'll be using to make your food, and you probably want one that hasn't been used before.
Compared to similar types of blenders on the market at the $100 price point, you have to wonder if the Vitamix is really four times better than any of them. The real question is, will you end up buying and breaking 4 $100 blenders before your Vitamix finally fries? The answer is that no, you probably won't. But when you also consider that you'll be using a better blender for a longer period of time, you can start to justify the price more.
The Commitment
You don't really have to be commited to using your Vitamix, you have to be commited to a lifestyle that includes things that you can make with your Vitamix. If you're thinking of getting into juicing, then this is the product for you.
If you're wanting a more healthy lifestyle, you should invest in a Vitamix. It will have you making more natural foods, and now settling for processed, store-bought options all the time.
Evaluation
The Vitamix is used not only in people's homes but also in restaurants and professional kitchens. It's great at making mixed drinks, because it blasts through the ice. In the same respect it's perfect for thick things like milkshakes and sauces. Once you start using it, you'll come up with new things to try with it, and it might give you that spark back in the kitchen.
Does Vitamix Really Work?
Yes, Vitamix works as described, and is a quality piece of machinery. Although you'll have to put out the money to get such a product, the old adage that you get what you pay for really applies to this one, but in a good way. If you're a serious cook, you'll want to go all out and get all of the attachments that are available for it.
Our Recommendation
If you've got the extra cash, get yourself a Vitamix. It works as advertised and you can do all sorts of things with it's different attachments. You can make your own soups, smoothies, shakes, and you can even grind your own grains to bake your own bread.
What do you think? Does Vitamix really work?