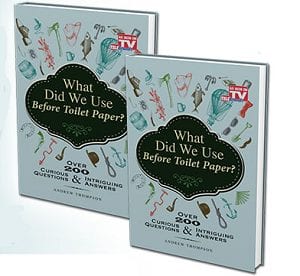 If you are the type of person that gets bored easily, or you love finding out the answers to strange questions, then you are going to love the book, "What Did We Use Before Toilet Paper".
Overview
There are so many things that we take for granted, or do out of habit without giving it much thought. The authors of this hard cover book have capitalized on this and have compiled over 200 questions, and then provided the answers to them. What makes it fun is they are questions that you may not even think of asking, but when they are raised they really peak your interest.
The Claim
The company claims that you are going to discover hundreds of interesting facts from their book What Did We Use Before Toilet Paper.They are saying that not only does it make for an interesting read for the individual, but makes for great conversation in social gatherings.
The Hype
While this may be viewed as a form of trivia, it has an extra twist to it because the questions are so thought provoking. While they might not be questions that are going to increase your worldly knowledge of current events, they will sure get you thinking about some of the every day things that are taken for granted. We all use toilet paper, and yes, we might even be picky about the brands we use. Have you ever really asked yourself, what did people use before toilet paper was invented? This is just one example as to the type of questions you can expect, and the authors are creating the hype around our natural curiosity  so it becomes stimulated.
The Cost
This is a hard copy book that you will receive once you pay $16.99 which includes the shipping and handling. If you are willing to pay an extra $6.99 you will receive a 2nd copy. You may have to wait three to six weeks to receive your order depending on the volume of orders being placed at the time you placed yours.
The Commitment
If you are buying the What Did We Use Before Toilet Paper as a gift, then there is a very good chance that you will read it first. The title and it's contents are sure to grab your attention, and you are not likely to be able to resist reading it through from front to back, before wrapping it as your gift giving item.
Evaluation
Anything that can relieve some boredom or stimulate your mind is really a good thing. The book, What Did We Use Before Toilet Paper, is structured to do just that. Of course when we have a question that we want an answer to, we can resort to doing a internet search. The big bonus with this book is that it raises a lot of questions that we may not have thought about. It is really quite mind stimulating. There is no doubt that many people like something different. A popular topic that we have covered before that is mind intriguing is Magic Tricks.
Final What Did We Use Before Toilet Paper Review
We are going to give this hard cover book a Thumbs Up rating. It promotes some good clean fun when it is used in social gatherings as a form of trivia, that is a little different than the normal type trivia challenges. Then for those that want an enjoyable way to forget about the daily stress and problems that are always present, this book makes for the perfect escape from all of that.
Our Recommendation
We not only recommend the book What Did We Use Before Toilet Paper for yourself as an excellent read, but encourage you to keep it in mind as an ideal gift. It would be perfect for those that you have to buy for, that simply have everything. It would be great for those who are down in the dumps and need a lift. If you are wondering whether trivia really is all that popular, then you may be interested in knowing that over 593,000 google searches were performed for "trivia books" in November alone.
What do you think? Does What Did We use Before Toilet Paper work or not?