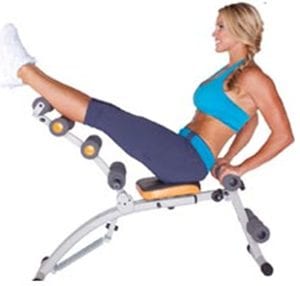 It's not too late to start working on getting into shape for those upcoming days at the beach and strutting around with that new fab figure or physique that you are intent on having this summer. Let's see if the Wonder Core can help you reach this objective in a fast and efficient manner without spending a ton of money on exercise equipment.
Overview
The Wonder Core yet again is another piece of exercise equipment, but when you think of the amount of people that really want to get themselves in shape, there can never been too many choices of when it comes to work out resources. This particular exercise item is touted as being a six in one machine that is usable by both sexes.
The Claim
The company claims that using this workout machine properly will allow you to work out from top to bottom, and offer a impressive 180 degree of motion.It has a 3 setting resistance choice allowing for a 6 in one core workout.
The Hype
All of the key want and need elements of getting into shape whether you are male or female are being addressed in the marketing pitch for the Wonder Core.They use celebrities to promote it and yet make it just as inviting for the Mom with kids who doesn't have a lot of time to herself for following a rigid exercise regime. It has addressed the concern for comfort which is hard to imagine when you are exercising with its roller massage technique. It addresses the potential safety concerns that many people who are not used to workouts are concerned about. Its ergonomic design takes care of this.
The Cost
The first thing that is going to catch your attention with the prime promo marketing is the the bold standout price of $14.99. Now you surely realize that a piece of equipment such as this is not going to sell for this low price. This is actually the 14 day trial cost, which you pay up front, then if you decide to keep the Wonder Core you are going to pay $149.97. You can have this broken down into three payments if you choose to.
The Commitment
Just as we tell you with any weight loss program or getting fit equipment that we review, you have to be dedicated to reaching the goals that are going to make you feel good about the way you look. Buying the machine and having it set up in your exercise area is not all that is required of you. You are going to achieve the best results by following the intended use of this product. Also, you will note by the bonus that comes with this equipment it includes a nutrition guide. You can tell just from this that exercise and use of the machine alone is not all that is going to be expected of you. Perhaps a change in lifestyle that is geared towards healthy eating is something you will need to focus on as well.
Evaluation
When deciding to do a review of the latest get fit equipment it meant making a choice between this Wonder Core or something like the 3 Bar Crosstrainer which would run you about $1,287. We opted for the Wonder Core because the price was appealing.
Final Wonder Core Review
We are going to give the Wonder Core a solid Try/Buy, for several reasons. One because it is a unisex piece of equipment. All too often many of the different types of work out equipment is applicable to either the guys because it is heavy duty, or the gals because it is lightweight and easy for them to handle. The Wonder Core is designed perfectly to provide the potential results that most people who want to look impressive are looking for. We also like the fact that it doesn't take up a lot of room, and set up seems easy. We also like the 6 exercise options.
Our Recommendation
You have a total core work out opportunity with the Wonder Core, however if you are looking for something even more simple and just want to focus on your ab muscles then you may want to take a look at the Ab Circle Pro, which is also a little cheaper.
What do you think? Does Wonder Core work or not?