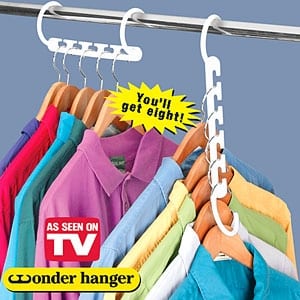 The Wonder Hanger promises to save you from a cluttered closet, which is what many people out there need. If you've got too many clothes and you've given away as many as you can, you'll need something to keep your wardrobe as tidy as possible. But the conventional method of hanging them up leaves much to be desired. So can something as simple as this really work?
Overview
The Wonder Hanger system uses a little white plastic piece with two rings on each end. It has five notches that are designed to hold five different hangers. The idea is that by putting your hangers into the Wonder Hanger, you can then drop them down vertically, effectively freeing up your closet by using space that otherwise goes unused. It looks pretty believable in the infomercial, so we just had to check it out for ourselves and put it to the test.
The Claim
Wonder Hanger says that it is the perfect space saving tool for your closet. They claim you can triple your closet space, which makes sense because each hanger holds 5 garments, but it doesn't necessarily give you five times the space because the clothing itself does take up room.
They also say you can store purses easily, and if you've ever had trouble finding room for all of your purses you'll appreciate that this puts them all together, but makes it easy to get to each of them, and doesn't take up as much room. Purses are just naturally bulky, and can be a real pain to store, so it's nice that they figured out these work for them as well.
They also say that these are strong enough for five heavy coats, so if you're wondering if they can hold five of your blouses or shirts you can be assured that they won't have any trouble.
The Hype
The hype is that this is a Made for TV product, and these are notorious for having infomercials that make the product look amazing, and easy to use, until you get it home and find out that it's a flop and you're out your $19.95. People have gotten burned by these so many times that they come into the game skeptical that anything they see on TV works.
The Cost
You get a pack of eight Wonder Hangers for around $6 on Amazon right now, which is great because that's plenty to turn most closets around. You likely won't want to use them for all of your clothes, just ones you wear occasionally, but this will help you get 40 of your garments out of the way so you can free up space for you most frequently used items.
The Commitment
Of course, you have to be the one that actually puts the clothes on the hangers and does the organization part. But once that's done you should have a more organized closet, and more free space to work with so you don't have to continually fight with your wardrobe just to pick out what you're going to wear.
Evaluation
If you've got a cramped closet the Wonder Hanger actually works at freeing up space, and keeping things organized. We tested it out on a cramped closet and found that in just a few minutes we had freed up enough space and were able to easily get to everything, including some purses that always took up so much room.
This is a pretty smart product because it ends up using all of that extra space that exists below all of the clothes in the closet. By dropping the clothes down a good 8-10 inches, it allows them to stack neatly on one another without causing a wrinkle problem like it normally does. It can be frustrating to wash, dry, and iron your clothes just to send them into a wrinkle-producing closet. Or worse, to pay for dry cleaning and then have them become a wrinkly mess.
Final Wonder Hanger Review
Wonder Hanger definitely works the way it's shown to in its promotional video. It's one of those products with such a simple design that it can't not work. Some people grow to their closet space, so if you have a big closet or multiple closets you might find that you still need this. Or if you've only got a limited amount of space to work with, this can come in handy, allowing you to properly hang all of clothes in the same amount of room.
Our Recommendation
There are a lot of products out there that claim to free up closet space, but many of them fall short of being ideal. With this you are basically freeing up a lot of space and you don't have to worry about your clothes getting all wrinkled because they're smushed up against each other. This gives each piece of clothing it's own space, but utilizing the vertical space that goes unused with traditional hangers.
What do you think? Does Wonder Hanger work or not?