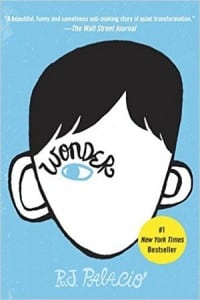 The Title doesn't tell you much but Wonder is a #1 New York Times Best Seller. If you have any children in the family that are suffering with a disease and especially one that affects their appearance, then you are going to want to own and read this book, and most likely pass it around to everyone you know.
Overview
Wonder is a heartfelt book that centers around a character called August Pullman. Auggie has a facial deformity that he has to deal with as he heads out to school for the first time, leaving his home schooling atmosphere.While Auggie is super excited about this new adventure and so desperately wants to live a normal, his fellow classmates are having problems coping and addressing Auggie's different appearance.
The Claim
This book is specifically written for children between the ages of eight to twelve years who are at the grade 3 to 7 level. The book is written to help kids understand and deal with the plight of other children and even adults maybe who are dealing with deformities, or that may be different physically or mentally than them.
The Hype
A book as well written as what Wonder is does not need any hype to sell it. Although to convince you that many people have nothing but praise for this book written by R.J. Palacio., out of 7,214 reviews it has received a 4.8 out of 5 star rating. Needless to say it is a best seller on Amazon. It has also received a very impressive rating from Barnes and Noble were it is offered for sale there as well.
The Cost
You can purchase this book, Wonder at Amazon for $8.41. It is also available at Barnes and Noble for $9.75 hard cover,notebook $7.69 or audio book $11.54.
The Commitment
While this is written for the young reader you may really want to read it yourself. It really is an eye opener and chances are it will lead to some great conversations about the material in the book between you and your kids. We often see kids with deformities and illnesses and have compassion for them, but how much time do we really take to think about all the challenges they are faced with on many different levels.
Evaluation
It is quite difficult to get our kids to read something that is meaningful these days, but it would be well worth the effort it may take to at first to get them to read Wonder. Once they have there is a good chance they will encourage their friends to read it as well. It is a book that evokes a mix of emotions, just as life does, and deformities and illness in children unfortunately can be a part of some lives.
Final Wonder Review
We're going to give Wonder written by R.J. Palacio a definite thumbs up. We like everything about this book. From the way it is written to the subjects that it touches upon because it is a reality. Not all children are blessed beautiful and healthy, but their situation is often made worse on some levels because of the way that society in general views them. Books like Wonder go a long way in helping our young ones be more compassionate and more accepting and comfortable around those kids who have been afflicted.
Our Recommendation
We recommend that you might want to pick up a few copies of Wonder and store them away as gifts for the young ones on your gift list. If you have ever been lost as to what to buy them in reading material that they are going to enjoy and learn from, then this is your solution. When it comes to kids we like to bring forward anything that may be of value to them. In the past we talked about the Amber Alert Child Safety, see what you think about this.
What do you think? Does Wonder work or not?