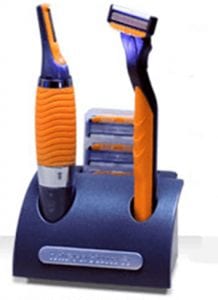 When it comes to getting a close clean shave most men want to rely on a razor that is of good quality and one that is easy to find blades for. That is about all they expect, so does Tough Blade offer anything extra?
Overview
Tough Blade uses three blades to get the job done. One blade is used to lift the hair, the second blade does the cutting, and the third blade does the finishing touches. This shaver is comprised of German technology
The Claim
The company claims that the user of Tough Blade will get a smooth clean shave each and every time they use this.They are saying that the blades will last for a full year and still give top performance each time it is used. They are saying this shaver is great for those with sensitive skin because the blades give a clean cut and don't tug on the hair which would cause irritation for some. It is said that the razor can lift the hair up from the hair follicles.
The Hype
Ease of use is probably one of the most significant factors that the hype centers around. Instead of having to follow the traditional shaving patterns to get a clean shave, with the Tough Blade you can shave in any direction that you want. The other interesting factor is the claims of being great for sensitive skin. A lot of men end up with irritated skin from shaving. Finally there is the cost saving factor. If the blades truly last for a whole year then this saves a lot of money when it comes to buying blade replacement.
The Cost
For $19.99 plus $7.99 which comes to a total of $27.98 you are going to get the Micro Touch Tough Blade Razor,12 replacement blades,and as a bonus the Micro Touch Trimmer. If you want to add an extra $7.99 to your order you will get the Deluxe offer which includes the stand plus 6 months supply of blade cartridges and a two year warranty.
The Commitment
If you are a man that is really serious about his shaving gear then you are going to want to check out some other reviews to see if this razor is really all that it is cracked up to be. There are some sites that have done reviews that are only listing the negative reviews, where those that are reporting as using the Tough Blade found many flaws with it. It is unusual to see all negative reviews with no favorable ones added.
Evaluation
There is another shaver by Micro Touch being offered on Amazon and in some big box stores called the Micro Touch 3 Tough Blade. The promo material is almost identical to that being offered by the Micro Tough As Seen on TV that we are talking about here. This Micro Touch 3 on Amazon is being sold for $22.99.
Final Tough Blade Review
We're going to give this Tough Blade a Try/Buy rating. It is difficult to determine if it is in fact the same as the Micro Touch 3 as advertised on Amazon. There are also lots that say you don't need all these blades to get a great shave. We talked in the past about the One Razor that promotes shaving with just one blade, and it has gotten some favorable reviews.
Our Recommendation
If you are just going to make your purchase based on reviews then probably you would want to buy the Micro Touch 3 which is the one promoted on Amazon. If you don't shop at that platform then you could go with the Tough Blade being promoted through the TV offer.
What do you think? Does Tough Blade work or not?