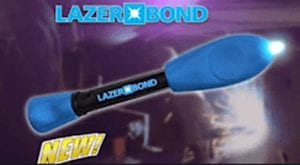 There are lots of different products on the market that act as adhesives and bonding agents, but a lot of times these can be messy and cumbersome to work with, so is Lazer Bond any different?
Overview
Lazer Bond is a liquid resin,that only takes a few seconds to bond. It can be used on many different types of mediums such as glass or pipe, for example. It won't harden in the container which can often be a problem with other types of adhesives. The big difference with this product is the hardening action takes place when the UV light that is attached to the applicator is used.
The Claim
Lazer Bond is being called a liquid plastic that the promoters are claiming can be used to bond almost any type of materials. They say that when used properly it can create an airtight and watertight seal that can endure up to 350 pounds in weight.
The Hype
The hype is how easy to use Lazer Bond is, and that it will never harden in its container. This is being touted as a money saver. With most other types of adhesives there is almost always a certain amount of waste because of  what is left in the container hardens, or the nozzles or applicators become gummed up and harden with the glue residue.
The Cost
The pricing is simple with the Lazer Bond offer. You get two for the price of $19.99 which is with free shipping.
The Commitment
The Lazer Bond is going to be a test and try because there are so many different types of items that may be in need of repair. The promo material makes it look like its really easy to use.Don't forget that you can wipe off any of the excess that you happen to apply but this can only be done before you apply the UV light.
Evaluation
There is no question that when it comes to repairing items that are broken that it may not be an easy task. While there may be a lot of products on the market that are going to be strong enough to hold the repair, the hassle comes in with trying to using the bonding agent. Some of them can easily get onto your skin and create some irritating problems. They can be messy and hard to apply just the right amount. In the past we talked about a different type of repair application called FiberFix. It has got some good reviews but it too takes a little more work than maybe what the Lazer Bond is indicating with theirs.
Final Lazer Bond Review
We're going to give the Lazer Bond a Thumbs Up rating. What we like most about it is the shortened curing time. There is no wait time for the curing that often takes places with more traditional types adhesives. If you are fixing something where bonding time or curing time isn't a problem then the only additional benefit you may have with the Lazer Bond is its easy application. Plus, it may be stronger than other types that you are using or be more applicable for the mend. Lazer Bond is being touted as being an ideal repair solution for many different types of materials.
Our Recommendation
We do recommend that you have one adhesive solution that you can count on for the majority of repairs that you may be faced with. If you have to find a specialty adhesive for a specific repair problem then this can be a hassle.
What do you think? Does Lazer Bond work or not?