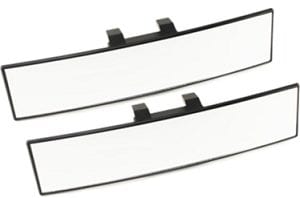 The nicer weather is coming and before we know it the kids will be out of school. This may mean more vehicle driving and perhaps more distractions. Using the Xtra View Mirror may just give you a little more protection when it comes to those blind spots.
Overview
The Xtra View Mirror is a mirror that is wider than the standard review type that comes with your vehicle. It is supposed to give you a wider view of what is going on behind you. It is indicated that it will help to reduce your blind spot.
The Claim
The Company claims that this product simply clips onto your existing rear view mirror. You won't need any tools for this. The company claims that on a three lane highway you will be able to see all lanes. According to the promo material the view will be clear and non distorted. It is supposed to also reduce the glare.
The Hype
The company focuses on the ease of installation and the great benefits that using the Xtra View Mirror will bring. They indicate that similar mirrors are used by professionals. It claims to give a 180 degree view, which some people find impressive if this is truly the case. For those that are nervous making lane changes, the hype addresses this stating that this product makes it easier.
The Cost
You will pay $14.95 plus $7.95 shipping, and if you want an extra one you will only have to pay the extra $7.95 shipping cost.
The Commitment
It won't take much of a commitment to install it, but it may take a little getting used to when first using it as you won't be used to it. You may want to practice with it a bit before heading out onto a busy highway.
Evaluation
One has to be really careful with any add ons when it comes to our vehicles. These type of products seem to be on the rise lately. One classic example was the Night View. We did a review on this and were concerned about the feed back being more negative than positive. A lot of people are claiming that it doesn't work and actually make driving more difficult for them. Yet in our comment section it was pretty positive.
Final Xtra View Mirror Review
We're going to give the Xtra View Mirror a try/buy. We do know that anything that can help increase our view from any direction when driving a car is a good thing. But there are always good and bad products. We did talk about a similar product in the past called the Total View 360. As of yet we haven't had much by way of thumbs up or down. We did follow up with its performance according to Amazon users and those leaving comments. It has a 3.7 out of a 5 star rating based on 342 reviews. The price for this one is $10.69 and you may qualify for the free delivery.
Our Recommendation
It is really important that you do your research before buying a product such as this. That can be pretty hard to do when it is so new to the market and there isn't much feedback to rely on as yet. If you do decide to give it a try, do like we said and test it out first before getting onto the highway. When there are kids in the car there is always more distraction, and if a product like Xtra View Mirror can help reduce your struggles with getting a clear view of what is behind you then its just a little extra protection well worth investing in.
What do you think? Does Xtra View Mirror work or not?