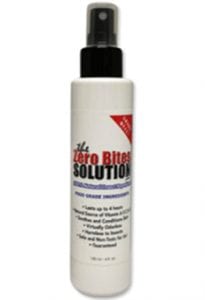 Summer is here and so are those nasty insects that like to leave us with a bite that is itchy and irritating.So does Zero Bites Solution live up to its claims that you can enjoy the outdoors without being plagued with insect bites.
Overview
As more people are becoming educated into the potential dangers of what some chemicals and ingredients can do to their health, they are becoming wary as to what they use as an insect repellent. Many have turned to those that are claimed as being all natural. However, even some of the natural ingredients can cause some allergies. The Zero Bites Solution is promoted as all natural as it does not contain any chemicals, deet, or fragrance, but it goes one step further by not containing essential oils.
The Claim
The Company claims that the ingredients contained in their product are food grade ingredients and are a natural source of vitamins A, E, C and D. They indicate the product can be used as often as necessary and is 100% non toxic. It is odorless and they say it is university tested.
The Hype
Being natural is the strongest hype for this type of product that is most likely to draw attention. Focusing on all of the inconveniences that insects create for those that want to be outdoors is another big focal point.
The Cost
By comparison to other types of insect repellents that are dubbed as being natural the Zero Bites Solution is not cheap. For a 4 oz. bottle you will be paying about $25. which includes the shipping and handling. For this you will get the 4 oz. size plus a bonus of a 2 oz. purse size bottle of the product. This is the current TV promo offer. In addition to this there are other choices like the Deluxe Zero Bites Solution Kit that you can purchase. You may even get a special pop up discounted price when visiting the site.
The Commitment
Of course you are going to have to dedicate a few moments of your time to apply the Zero Bites Solution, but if you are attacked with these nasty insects every time you step out doors then it won't take much to jog your memory to apply the product. If you find the product works really well for you then you will also want to be sure that you re-order in plenty of time before you run out of the product.
Evaluation
We like the fact that the promoters are emphasizing that the product does not contain any chemicals, deet,citronella or essential oils as this indicates that you are not getting another version of many similar products on the market. The promo material really doesn't give much indication as to what the product actually does contain or what makes it work. It does say it contains food grade ingredients. It is becoming a trend now in the beauty industry for many manufacturers to use food grade preservative ingredients.
Final Zero Bites Solution Review
At present we are going to give the Zero Bites Solution a Risky Try/Buy Rating. It appears to be a new product so there is no user feedback to rely on. There is nothing in the promo material to build the credibility of the active ingredients so a comparison can be done or research conducted on the validity of them. It is quite pricey compared to the quantity in the bottle, and the indication an application only lasts for up to four hours.
Our Recommendation
If you are a person who is really skin sensitive or have just not found a natural insect repellent that works for you then it may be worth giving the Zero Bites Solution a try. You always have the 30 day money back guarantee to rely on if you find its not worth the investment. The product is being promoted as being safe for everyone so it may be a good choice to use on your youngsters, but you will still want to check out the actual ingredients before using. Some people can be sensitive to almost anything. In any event until you find something that is going to prevent those bites you may be interested in a product like Therapik that helps to stop the itching from a bite once it has happened.
What do you think? Does Zero Bites Solution work or not?
[kkstarratings_custom_footer]