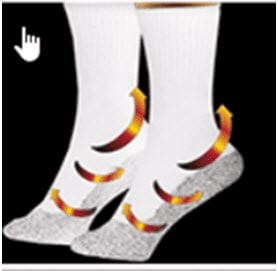 If you are like many individuals who enjoy being outside even in the coldest weather, you know that sometimes, no matter how many layers you put on, you can't seem to stay warm enough. There have been many new designs in warm weather wear, but often the main concerns have been in designing coats and leg warmers for example, and many times the feet are left forgotten. That is until now. There is a claim being made that the 35° Below Socks are an innovative new product that have a guarantee to keep your feet toasty warm and dry, no matter how cold it gets outside. Is this true or false?
How Are 35° Below Socks Different Than Regular Socks?
According to the claims being made:
As stated, these socks are guaranteed to keep your feet totally dry and extremely warm no matter what type of weather you are faced with.
They are apparently thin enough that they can be worn underneath regular socks and they are made durable enough that you can wear them just on their own.
They are designed to be lightweight and flexible and they keep your feet at a very comfortable temperature. They are both washer and dryer safe, making them easy to clean.
How Are 35° Below Socks Made?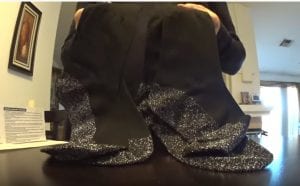 The reason the claim is being made that these socks are able to keep your feet warm and dry is because of the special way they are made.
Unique Design
The unique design utilizes super soft threads actually made from aluminum that are infused with a nylon knit fabric which is not only breathable, but it reflects your body's natural body heat and helps to minimize any dampness caused by sweating.
Unfortunately wearing thick heavy-duty socks might help to keep your feet warm, but often they cause your feet to sweat which can ultimately make your feet colder over time outside. Even if you use insulated boots this can be a problem. With these socks, you don't have these issues and they advertise that no matter what type of weather you encounter your feet will stay dry throughout the whole day.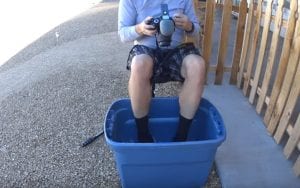 Aerospace Technology
Apparently the technology behind these awesome socks actually comes from the aerospace industry. It is this technology that allows your feet to stay at a specific temperature and is what keeps your feet so dry and warm, It is the specific infusion between the aluminum threads combined and the nylon knit fabric that keeps the socks so flexible and soft to the touch.
It is this special weave that reflects your own body heat and is what minimizes the perspiration and moisture that often you get with much thicker socks and heavy boots. It can take less than 15 minutes for your feet to start sweating in ordinary socks which is something you don't ever have to worry about with this product, no matter how active you are out in the cold.
No Gimmicks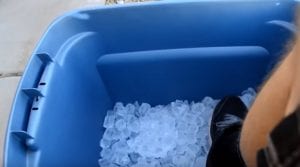 Using aluminum threads in the  35° Below Socks is not just a gimmick to sell their products, as there has been testing done with this type of technology at Stanford University. They have been experimenting with nanotechnology where it seems they applied an extremely thin silver nanowire coating to various fabrics to create super style insulators that can reflect back over 90%. of the body's heat.
This is the same technology that these socks use to make such a difference in how comfortable your feet are even in extremely cold weather. Gone are the days where you have to use heated footpads or inserts or use a heated blanket or heated chair to warm yourself when enjoying outdoor activities in the cold. These socks will make a huge difference in how you enjoy the winter months.
Good For Any Conditions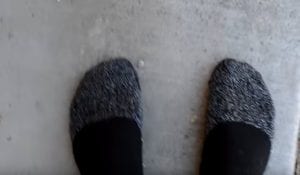 One great benefit of these socks are the fact that they can be worn outside in the coldest weather and wintery conditions.
For many different activities such as for people who like running in the cold or winter hikers, skiers, or for doing chores like shoveling the driveway or walkways or even just going to work. But they can also be worn inside and will still maintain the perfect temperature. This means you can wear them without worrying about them being to warm when you get inside. Also, because they are made so thin and they are lightweight and extremely flexible you can wear them  with other socks or by themselves and can be worn with winter boots, hiking boots, sport shoes, regular shoes and even dress shoes.
Benefits Of 35° Below Socks
Outlining some of the benefits of these great socks are as followed:
Great for men, women and children
Extremely flexible so can be used for all types of activities
Can be worn inside or outside while still maintaining a comfortable temperature for your feet
Can be used in all types of weather, no matter what the temperature is
Super soft and very comfortable
Have gotten great reviews from people from all over
Machine washable and dryer friendly
Comes in three different sizes
Can be worn under regular socks
Do They Deliver On Their Promises?
There is a lot of impressive information as to why they should work, but do they deliver?
Our Reviews
The reviews that we have received are mixed with several all having the same basic comment that they didn't live up to their expectations.
Other Reviews
Amazon reviews seem consistent with what is here as well. Based on 334 ratings they have received a 3.6 out of 5 stars rating. With 47 giving it a 5 star and 20%  a 1 star indicating that a little less than half are satisfied and a little more are definitely not, with the rest somewhere in between.
How Do You Make Your Decision?
In this video, the reviewer went through a demonstration with the socks to test them. His overall impression seems to be that he was not impressed. However, consider the variables below.

Looking at value for money. Are you prepared to spend around $17. For a pair of socks that may not deliver on all their promises. Don't forget you are dealing with a product here that comes with a lot of variables that are going to affect the quality of the product such as:
What are going to be the temps that you are wearing them in?
What kind of footwear will be used?
What are the ground conditions going to be like?
How are you for holding your body heat?
How much will you be moving around in them?
The problem is when a company makes a lot of heavy claims they have built up the expectation for buyers and when they don't live up to these people get angry. Not so much that the product didn't work, but because they feel they were deceived.
A Little More About Socks
Although protection from the cold is one of the primary reasons people wear socks, there are lots of other reasons they are to be worn. Some for health reasons, that you may find interesting.
How about sharing your sock experiences with us!