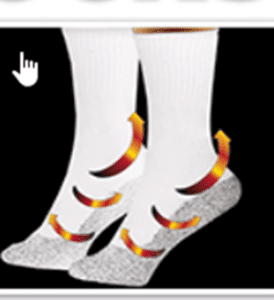 We have talked about different types of socks in the past but mostly with the focus on their ability to help with circulation. We can't forget about the true meaning of this type of attire which is to keep your feet warm and protected. All socks are not the same, so we thought we would take a look at 35 Below Socks.
Overview
35 Below socks are socks are woven from fine threads of aluminum that are so soft you don't even notice them.
The Claim
The promoters claim that the aluminum threads are woven into the nylon threads that make up the 35 Below Socks. These socks are being claimed to be breathable. They are supposed to have the ability to reflect the natural body heat that exists in your feet. By doing this helps to reduce moisture from perspiration with the end result being your feet feel dry and comfortable.
The Hype
The hype really focuses around not having to deal with socks that have become sweat laden which often happens when wearing heavy or woolen socks to help keep the feet warm.
The Cost
You can expect to pair $19.99 for 3 pairs of the 35 Below Socks socks. They are available in sizes small, medium and large. They are applicable for both men and women and you have a choice of black or white. They also come with a thirty day money back guarantee.
The Commitment
There is really no commitment required when wearing the 35 Below Socks other than keeping them laundered enough so you always have a clean pair on hand. Laundering is done as you would do for normal sock laundering.
Evaluation
The concept of using aluminum threads is a good one. For those that think this may just be a gimmick, there is progress being made with this type of technology. Researchers at Stamford University have experimented with using nanotechnology where they applied a silver nanowire coating to some fabrics to make them super insulators. It is indicated that this has the ability to reflect back over 90% of the body heat. Which is the same premise that the 35 Below Socks are based on.
Final 35 Below Socks Review
We are going to give the 35 Below Socks a thumbs up. We like the technology behind it. Plus the price is reasonable. Even for good quality standard socks, they would be in this price range. The fact that they are lightweight and comfortable is also important. They can be worn under regular socks if desired but the color of them will match with any outfit so it probably wouldn't be necessary.
Our Recommendation
Although the 35 Below Socks are structured for warmth, there are a lot of people that need to focus on specialty sock wear for other issues like dealing with circulation problems. We have talked about several different types in the past like the Miracle socks so you may want to check these out.
What do you think? Do the 35 Below Socks work or not?
[kkstarratings_custom_footer]