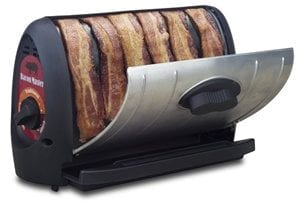 We truly could not pass up a review on this next goodie we came across. Considering the love we have for great kitchen utensils and unique products and because really, who does not love bacon we thought this Smart Planet Bacon Master one would really resonate with you.
Overview
The Smart Planet Bacon Master is a stainless steel stand-alone bacon maker, yup, a machine that does nothing but cook delicious bacon! How COOL is that?
The Claim
The claim is that by using this toaster like bacon "oven" you can make crispy or not so crispy bacon whenever you like without the fuss and mess that cooking bacon usually entails!
The Hype
The hype? BACON! That is the hype! Juicy, succulent bacon! Cooked in no time without the mess. What more do you need in the way of hype?
The Cost
Can you really put a price on a machine like the Smart Planet Bacon Master that cooks your bacon for you? With no splatter or mess? I think not! But the price is a very reasonable $27.99
The Commitment
Very little in the way of commitment required for the Smart Planet Bacon Master other than a love for the crispy wonders of bacon! The unit is very easy to clean and stores pretty easily under any kitchen cupboard.
Evaluation
We cannot believe that it took this long for someone to come up with a machine that cooks bacon by itself! With all the browners for the microwave and other assorted oven versions that never really work the way we anticipate we think the timing is absolutely perfect for the Smart Planet Bacon Master! The unit cooks up to 8 slices of bacon at one time and can cook them to a degree of doneness to suit every taste. From really crispy to medium crispy to slightly wiggly the choices will suit anyone. The Smart Planet Bacon Master really will make life so much easier when making all the great dishes that bacon requires. The machine is stainless steel so it will last and look great when in use on the counter top or stove top.
Final Smart Planet Bacon Master Review
We are absolutely impressed with the Smart Planet Bacon Master! Cooking bacon has, up till now, been a messy endeavor but not anymore! Cooking the bacon to your desired degree of doneness easily and mess free. You cannot beat that!
Our Recommendation
For anyone who loves to eat bacon but hates the mess it can create, this machine is for you! Would make a great Christmas gift for that hard to buy for someone who loves their bacon! In fact, it would make a great gift at any time of the year. If you want to look at another version of a bacon cooker then check out the Bacon Boss.
What do you think? Does the Smart Planet Bacon Master work or not?