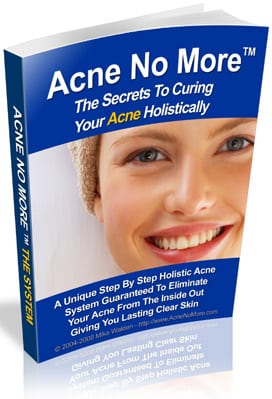 Acne No More is a downloadable ebook that promises to show you an all-natural, holistic way to get rid of your zits. It claims to treat all sorts of acne from all areas of your body, and without needing to buy expensive treatments like oils, foams, and creams. But does it really work, and should you trust the info inside it?
Overview
Skin problems on the body come in many forms, and there are several types of acne that can show up. These areas include the face, the back, the shoulders, and the chest, among others. If you try and treat them with some of the popular solutions out there you might experience itching or peeling of the skin from the chemicals that are found in these products.
You could also have overly oily skin, and larger pores than those with clear skin. There are so many problems that people can have with their skin, and they can combine together to cause some problems that are really hard to treat.
Acne effects people in different ways, but some of the more common symptoms associated as a byproduct of having zits is low self esteem, clinical depression, and well as constantly being worried or anxious due to your appearance. It can even cause some people to be reclusive, opting to stay in rather than go out and have people see their zits.
For some, it takes over their lives and it's all they think about. They spend all of their time and money trying to treat it, and it's become an obsession. Many people aimlessly try one treatment after another because they're unsure of what works and what doesn't and just take "try it all" approach. There's just so many options, and each company will try to tell you something different about what causes acne and how to treat it.
The Claim
There are several claims made by Mike Walden, the author of Acne No More, many of which will resonate deeply with those that have tried desperately to get rid of their blemishes. He says that you don't have to use drugs, creams, or ointments, which right away makes people wonder what in the world this could involve that would actually be effective.
Next he makes one of the biggest claims, that the Acne No More system works on all the different types of acne you might have. Whether you have rosacea, whiteheads, blackheads, cystic acne, vulgaris, or conglobata. It will also work no matter what age you are, or where your acne is located on your body. It doesn't matter if your acne is severe, he says that you will be able to clear it up faster than you ever dreamed.
He goes on to state that this is a permanent cure, and that you won't get any more recurring breakouts, that you'll clear up any excessive oiliness and redness on your face.
The end results, he says, is that you'll look better, which will make you feel better, which will help you regain your self esteem and lead to a better quality of life.
Is Acne No More a Scam?
Some people wonder if Acne No More is a scam or not. All downloadable products make people skeptical because there's not really a tangible product involved, so it seems like you're paying for something but not receiving anything you can hold in your hands. But the information is what you're after here, and that can easily be downloaded to your computer and used right away. You're protected by an iron-clad guarantee, so it can't be a scam because there's no way for them to keep your money unless you allow them to.
The Cost
Acne No More is just $40, which when you consider that you won't have to fork over the cash for expensive acne treatment kits, seems rather reasonable. For an extra $10 you can get the deluxe set, which includes a video collection so you can watch firsthand what you need to do to follow the program.
The Commitment
You definitely have to read and follow the instructions that are presented to you in the Acne No More System. Keep an open mind, even if you've tried many other remedies before. It can be hard not to pre-judge something if you have the memory of similar treatments not working. This is a holistic system, which means you are treating your acne problem from many different angles and treating the cause, not just the symptoms.
Evaluation
The book comes with step-by-step guides with illustrations so that you don't have to wonder how to do it. This is a 240 page book with real information, so you don't have to trust all of the sites out there with lousy information on what to do about your acne. The deluxe set has videos that are recommended, because for the price you won't find a more comprehensive solution to treating your zits naturally and revealing the clear skin that's rightfully yours.
Final Acne No More Review
The feedback that has come in from the Acne No More program has been overwhelmingly positive, and most people that try it have had at least some success. Of course, everyone's situation will be different and there's no way to tell if they'll follow the program as described, but overall this is a winner and gets our recommendation.
Official Website: www.acnenomore.com
What do you think? Does Acne No More work or not?