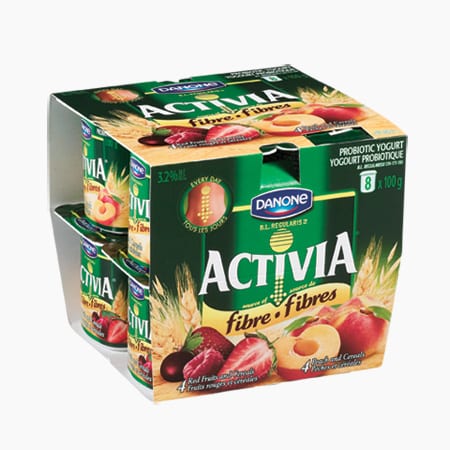 It is quite likely that you will have seen advertisements on the television for Activia, but can it live up to its claim of making you healthy? There is now a whole host of products that tell us that they are great for our bodies and will benefit us by increasing our good bacteria so it is important to understand the advantages that each product can offer.
Overview
Activia is a natural yogurt product that is produced and distributed by a company named Danone who is the parent company of Dannon and who is the same company that distribute the most popular brand of bottled water in Europe, Evian. The company has been trading for over 230 years and its headline product today is the Activia yogurt, which is aimed at the growing market of healthy nutrition. The most common form of the yogurt is the 4-ounce tubs that are sold in various pack sizes. A new addition to the Activia range is the 24-ounce family sized tub.
The Claim
Danone make the claim that Activia yogurts will "naturally regulate your digestive system and make up part of a balanced diet and healthy lifestyle". For a tasty creamy desert product that is available in many different flavors, this sounds great, but how can this be? Tasty foods are never good for you. The secret is that Activia has packed their yogurts full of probiotics, which are living microorganisms, which stimulate the good bacteria in the stomach. This helps them to thrive and eliminate bad bacteria. This is truly amazing for a product that is simply a yogurt.
The Hype
The great thing about Activia is that it can be eaten at any time to curb food cravings but without the added guilt of eating too many calories afterwards. Activia is a great substitute for breakfast, mid-morning snacks or even as a late night treat after dinner to keep your stomach satisfied through the night. The large family size tubs can be poured into a bowl and mixed with fruit or cereal to add unlimited numbers of variations that can be had. Danone shows Activia adverts with super-slim models in an attempt to give the impression that their yogurt will make you slim. It may not be able to keep you slim on its own but the microorganism will sure keep your stomach healthy.
The Cost
Danone markets Activia in various pack sizes from 4 – 18 and even in the large family size 24-ounce tub. The smallest pack of 4 x 4-ounce tubs costs just $2 and the 18 pack cost $6. For the family tub you will need to pay around $4.50 but this will go bad more quickly than the individual sealed packs so should only be bought by those that high volume yogurt eaters.
The Commitment
Danone seems to be seriously committed to their Activia and healthy lifestyle products as they offer free nutritional guides and free fitness regimes on their website. This is almost unheard of and is almost certainly done as a marketing ploy to encourage further sales. However, the fitness regimens and nutritional plans that they offer do seem to make sense and have received glowing reviews by users on various other website pages.
Danone is also committed to becoming the global market leader in their niche field of probiotics yogurt. The Activia range currently accommodates 9-flavors. The range is also on the increase with the introduction of new sizes and flavors.
Evaluation
The fact that these yogurts are also tasty is a huge positive. It adds a new precedent to the healthy living and eating market and raises the benchmark for other healthy food product manufacturers to produce equally good tasting food. It sits on the supermarket shelves priced slightly higher than other yogurts to which the taste is very similar however, Danone's competitors do not offer the same sense of health and well-being as the Activia yogurt does.
Does Activia Really Work?
It is worth pointing out that eating Activia will not instantly make you healthy but the Bifidus Regularis probiotic that is unique to the Danone brand has undergone some intensive research and the results show that those that eat the yogurts on a regular basis keep in better shape than those that do not with the same lifestyle.
Our Recommendation
For those individuals that often get upset stomachs and sometimes feel gassy and bloated, a week's worth of eating Activia yogurts once a day will almost certainly settle your stomach and with the prices so low it is definitely worth a try. You never know, Activia may cure you from having an upset stomach ever again.
What Do You Think? Does Activia Really Work?