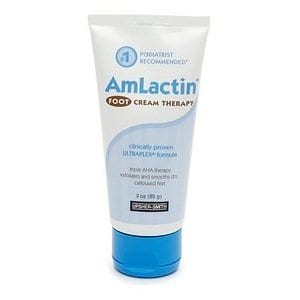 AmLactin foot cream boasts some pretty glowing reviews, but can it really work wonders for your dry, cracked feet? Most foot creams fall short of expectations, either being too greasy, not working on rough patches well enough, bombing on calluses, or not providing enough moisture to overcome the dryness. We look more closely at the claims being made here, and see if this is something to add to your dry foot arsenal.
Overview
AmLactin has a successful line of moisturizers, creams, and lotions for the body, but their foot cream is the only product they carry with a specific body part in mind. It's important to note that they are no one hit wonders with their foot cream. Their body creams and lotions all get positive reviews as well. It seems they're doing a good job of cracking the moisturizer code at AmLactin HQ.
The Claim
AmLactin foot cream says that it can provide you with a healing blend of different emollients as well as humectants. An emollient is just a fancy name for a moisturizer, and a humectant is something that is known to raise the hydration level of the skin. They say that it will improve the overall softness of your feet, and that it works better than prescription remedies you might be considering.
They go on to say that it is hypoallergenic, and that you should use it twice a day if you want to get the best results from it. They say that this is the number one brand of foot cream recommended by podiatrists, but that usually means that they send podiatrists free samples to give away to their patients. They say that it works on calluses, which is the Achilles heel for many foot creams.
They say that their formula is patented, so you won't be able to get the same sort of long-lasting results from other brands.
The Hype
The hype comes from this having so many people say they love it across several different third party review sites. There's just no way you could fake this many reviews and so there is definitely a positive vibe going around for it.
The Cost
A 3 ounce tube of AmLactin foot cream is on Amazon for $9. Compared to other creams of this caliber that is a pretty reasonable price. You'll find that as your feet get back to normal you won't have to use as much of it as you did when they were at their roughest.
The Commitment
They say that you need to use this twice daily, but for many people that's too much time to devote to their feet. If you can just get in the habit of using it before you go to bed, you should see marked improvement in the overall condition of your feet as you stick to your regimen for days and weeks.
Evaluation
AmLactin foot cream is not fooling around. They've gone and patented the technology that they've put into this cream, and they are pretty sure about the results you'll get. It's not every day you see a company this committed to giving their customers a reliable product at a price that is sustainable for long-term use. Many foot creams are so expensive that you can't justify using them according to the directions.
Pampering Your Tootsies
Showing your feet some love is a great idea, as it only pays back positive dividends in how you look and feel. We recommend setting aside one night a week to give yourself your own pedicure and foot treatment. Start by using a well-reviewed foot file to slough off the rough parts, then apply a moisturizing foot cream by massaging it into your feet. If you can, do this right before bed so you don't have to walk on your feet much after you're done. Some women say that it works best to put a pair of socks in to sleep with overnight, because it makes sure more cream stays on your feet and has a chance to do its thing.
Final AmLactin Foot Cream Review
AmLactin foot cream is getting our Thumbs Up as a decent-priced foot cream that you can add to your foot care toolkit. Many people rave about it, and say that it took their neglected feet and turned them around. Of course there's no guarantee that it will work for you, but all signs are pointing to yes, so you owe it to yourself to give it a try and see what you think.
Our Recommendation
Finding your favorite foot cream is vital if you want to have properly maintained feet. You've got to have that one tube of cream that you know will work the way you want it to, and you can rely on the results it provides.

What do you think? Does AmLactin Foot Cream work or not?