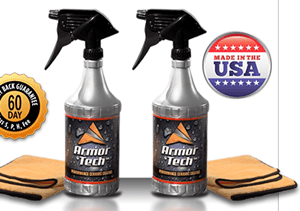 After a long winter many vehicles need some tender loving care. Which means a good cleaning and then adding some protection to it. A product that can really help with this may be Armor Tech.
Overview
Armor Tech is claiming to be a high performance cermamic coating. Not only can it be used on the body of the vehicle but many of its other components such as the tires, rims, bumpers, chrome, leather
The Claim
The claim being made about Armor Tech is that it provides a great shine while at the same time sealing and protecting the paint or surfaces of the vehicle.
The Hype
The hype that comes with Armor Tech is that it is super easy to use. It is a one step process. No rubbing or scrubbing to get that perfect shine.
The Cost
The cost for Armor Tech is $29.99 plus $8.99 shipping. Buyers can receive a second one free for the price of the shipping costs.
The Commitment
The commitment that comes with using Armor Tech is no more than what would be needed to get the car clean and protected using standard methods.
Evaluation
Armor Tech has some good features to it. To being with it really cuts down on the steps that would normally be needed when getting the car back in shape after a long winter. Or for cars that are being taken out of storage for summer use. Another issue that often arises is that several different products have to be bought to achieve the same results. Overall this adds up and it can become expensive. Not to mention the amount of work that would go into using them. It would seem that these are some of the common problems that Armor Tech has addressed. Having the car look like new again as the promoters are indicating is an extra bonus. The big factor is protecting the finish of the car from the spring summer weather. Which means lots of rain and hot sun.
Final Armor Tech Review
It is important to understand what benefits Armor Tech is offering. Most everyone wants their vehicle to look good. More importantly they want it protected. The promoters are claiming that this is a water based product and it can be used safely on all surfaces including glass. They also say that it can repel water. This is another great feature. For those who have classic cars they are really intent on protecting their cars. We are prepared to give Armor Tech a try buy as there isn't a lot of feedback as yet about this particular product. It does come with a 60 day money back guarantee so this offer some protection on the purchase of this product.
Our Recommendation
There are plenty of products on the market that are making similar claims. An alternative that you may want to check out is Armor All Wipes.
What do you think? Does Armor Tech work or not?