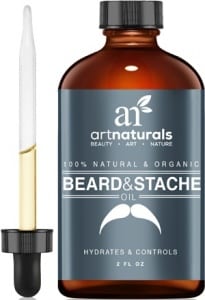 It could very well be that a lot more men are now growing beards because they are a lot easier to maintain thanks to the products that are on the market to help them with this. Gone are the days of the dry itchy beards when one is using a product like the Art Naturals Organic Beard Oil.
Overview
The Art Naturals Organic Beard Oil is a leave in beard conditioner that can be used on a daily basis. It is comprised of top quality ingredients that are all natural. These are Organic Jojoba and 100% Moroccan Argan Oils.
The Claim
The promoters claim that the Art Naturals Organic Beard Oil helps with the hydration of both the hair of the beard and the skin. It also contains Vitamin E to help with this.It is also being claimed to help with the hair growth.
The Hype
While the most common problems with beards is the dry itchy skin, a lot of men end up suffering with acne. The promoters of Art Naturals Organic Beard Oil are claiming that this product will also help with that problem.
The Cost
Art Naturals Organic Beard Oil is available at Amazon for $13.50 for a 2 ounce bottle. While this seems like a small amount a little goes a long way. Compared to the price of what many women pay for their personal skin care products, this product for men seems comparable.
The Commitment
Beard maintenance can be quick and easy when you have the right products to use. It does take a little more time. When it comes to the Art Naturals Organic Beard Oil it doesn't take anymore time in its application than it would if you were using an after shave if you didn't have a beard.
Evaluation
Overall we think that its high time that there were a good selection of products for men with beards. While there have been quite a few on the market for awhile not all of them lived up to their expectations. As manufacturers of these products saw the growth in the market there was more effort put into the quality of these types of products. There are really a lot of men that would like to have a beard but didn't want to put up with the hassles that come with them.
Final Art Naturals Organic Beard Oil Review
We are going to give the Art Naturals Organic Beard Oil a Thumbs Up Review. First we like the fact that the ingredients are natural. Then we like the idea that the product is a leave in, so you are really getting the benefits of it over a longer period of time. The price is reasonable and its readily accessible. It also seems to be a favorite of many as it has received 4,934 reviews resulting in a 4.4 star rating. What seem to be the favorite aspects about this product is that it is scent free and it helps to relieve the matting that can occur in some beards.
Our Recommendation
Taking care of a beard should be easy with today's modern technology. It certainly seems to be heading that way when you see products like the Art Naturals Organic Beard Oil. Now, for those who have no desire to have a beard they are most interested in getting a clean and close shave, so for these gents they may want to take a look at the RotoShave.
What do you think? Does Art Naturals Organic Beard Oil work or not?
[kkstarratings_custom_footer]