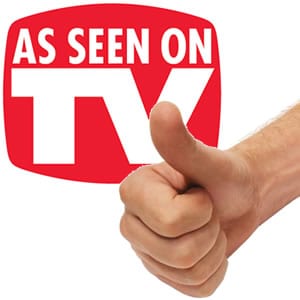 If you've ever channel surfed you're likely familiar with the ubiquitous As Seen on TV products that populate many cable channels, and sneak their way into your favorite programming. This is a special business model followed by some companies to get their products known and in your home.
The only problem is that many of these products are simply junk, and find their way into landfills shortly after arriving at your home. They rope you in with gimmicky prices like $10 or the famous $19.95, and they're presented in a way that gets us to override our common sense and go along with the fantasy that this could actually change our lives for the better.
However, there are a few, a select few, that are actually pretty decent, and in some instances good. Over the years we've evaluated hundreds of As Seen On TV items.
We've sifted through the rubble to bring you 30 products that are actually worth buying and using.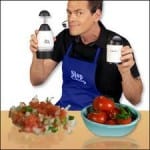 Slap Chop
The Slap Chop is presented by Vince Offer, yes he actually changed his last name to Offer. It's one of those products you see that makes you want to at least try it, because it looks so fun and easy to use. The secret to the success of this product is that it is designed so that each chop is like several chops, so you're magnifying the efficiency of your actions. Slap it once and you've chopped it several times in essence. Go to town on it and you'll have it chopped up into itty bitty pieces in no time.
See our full review of the Slap Chop.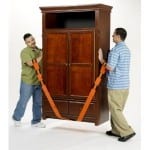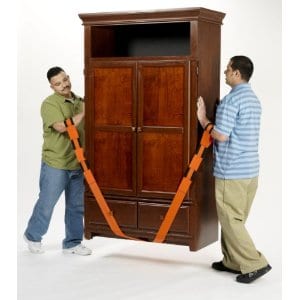 Forearm Forklift
The Forearm Forklift is a way to help you lift heavy or bulky things without killing your back. It uses the concept of leverage as well as creating a wider surface area in order to spread the weight around. It's one of those simple ideas that works because there's not a whole lot of ways to screw it up. You simply put the straps on as shown in the instructions, get your lifting buddy to help you, and let the straps do the work. You take the pressure off your back, add additional control to the moving, and save yourself a lot of pain and suffering.
See our full review of the Forearm Forklift.


Ped Egg
The Ped Egg has withstood the test of time and thousands of customers have come back online to report that they're happy with the way it performs. Of course there are some that don't like the results you get, but when you consider your different options, this one makes a lot of sense. It's not really going to replace getting a pedicure, and you'll probably want to get one of those on occasion, but it does make for a great maintenance product to use between pedicures. It keeps all of your shavings nicely stored so you can simply empty it out into the garbage bin.
See our full review of the Ped Egg.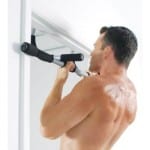 Iron Gym
The Iron Gym is a pretty simple concept, and one that has been around for decades. They just finally got the execution right with this one. It goes onto most doors quickly and easily with no drilling and mounting required, and it makes it so you're actually doing your exercises out of the doorway, so you have more room and can make it more effective. When you remove it from the door it can be placed on the floor to do additional exercises. This comes in handy for days when it's raining, or snowy, or on days when you otherwise don't feel like hitting the actual gym.
See our full review of the Iron Gym.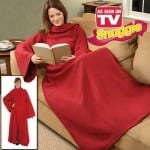 The Snuggie
The Snuggie is one of those ridiculous products that actually is quite effective at what it does. It's spawned dozens of copycats, and even has some companies trying to improve on the idea and doing a pretty good job of it. If you've ever felt the need to use your hands and arms , but didn't want to untuck yourself from your blanket, you'll appreciate the versatility this provides. These are great to take with you off to college, or to have in a drafty room. As an added bonus when you stand up you end up taking your blanket with you.
See our full review of the The Snuggie.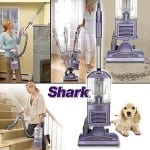 Shark Navigator Lift-Away
The Shark Navigator Lift-Away is using TV to advertise their product, even though it has a higher price point than most TV offers. They figure they can do this because they're gunning after Dyson vacuums and trying to undercut them on the price. Their pitch is that you're getting the same sort of quality, but at a fraction of the price. The intriguing thing is that feedback from users backs up this claim and most people seem rather happy with their purchase, and are glad they have extra cash in the bank. It features the same "no loss of suction" and the Lift-Away part means you can detach it from the base and carry it wherever you want.
See our full review of the Shark Navigator Lift-Away.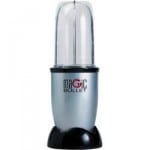 Magic Bullet
The Magic Bullet first hit the airwaves several years ago, and is a TV product that was so successful and so well-built that it had no trouble making the transition from TV to retail. You can buy these in stores if you want, or you can go the classic route and take them up on their TV offer. Either way you're getting a quality little blender that can mix up drinks and chop up foods no problem. This is a great product to have for parties, and is small and easy enough to use on a daily basis to mix up a smoothie or make a refreshing frozen ade during the summer.
See our full review of the Magic Bullet.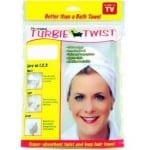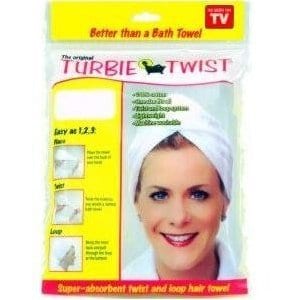 Turbie Twist
The Turbie Twist is a way to wrap your hair so that it stays in place and dries while you continue to get ready. Wrapping a towel on your head has its fair amount of drawbacks, including coming undone, and being too heavy. The Turbie Twist is light, and it has a special mechanism that lets you easily lock it in place with one hand, and also undo it easily when you're ready to take it off. If you sometimes get headaches due to the weight of the towel on your head, this is for you. It makes getting ready that much easier.
See our full review of the Turbie Twist.


Genie Bra
The Genie Bra should make it easier for you to pick the bra you want, because it stretches to fit your body, rather than forcing your body to contort into the bra. Many women have said that they really like theirs, and that it fits like they say it will. Some of the main features and benefits it provides is that you won't have a bra strap digging into your sides and back. This means that you won't have that unsightly back fat poking through your bra straps. You get a nice smooth even look and you'll be more comfortable as well.
See our full review of the Genie Bra.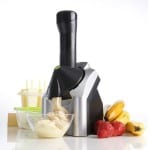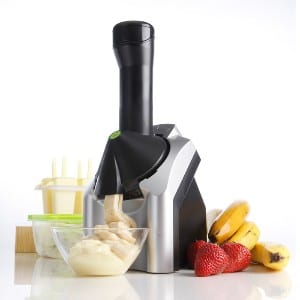 Yonanas
Yonanas is an ice cream maker that makes dairy free ice cream just by using bananas and other fruits. It's a pretty smart idea, and they give you pointers about how to use the right bananas so you get the consistency of ice cream. They also include a recipe book so that you can learn which fruits make the best ice cream and help to cut down on the taste of banana. This is a handy device for those that are trying to diet, but don't like the thought of giving up that icy treat every once in awhile. You can enjoy it without guilt with this.
See our full review of the Yonanas.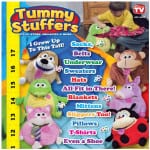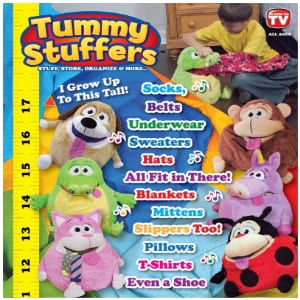 Tummy Stuffers
This is something that your kids are going to want if they happen to see it advertised on TV. It's also one of those products that you can actually let them have because they're likely to have a fun time with it, and as a side benefit you'll be tricking them into cleaning up their room and keeping their toys somewhat organized. This is like a big stuffed animal with an empty center that your child can use to store all of their stuff. The fun part is that the mouth is the entryway, so it makes it fun to "feed" the animal with other toys that they keep safe and secure.
See our full review of the Tummy Stuffers.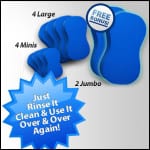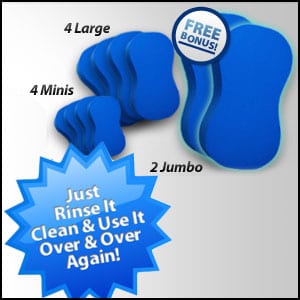 Mighty Thirsty
The Mighty Thirsty is pitched as a way to help sop up wet messes more quickly and easily than if you were to use a paper towel or ordinary sponge. This is a great product to have in homes that are prone to accidents, like those with small children or pets. If you've cleaned up one too many spills the hard way and you feel like you are single handedly causing the stock to rise on the big paper towel manufacturers, here's a way to soak up those messes again and again without adding to the landfills.
See our full review of the Mighty Thirsty.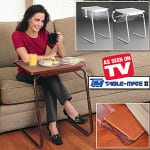 Table Mate
The Table Mate is the old concept of the TV dinner table, reinvented with additional improvements so that it can be used for an assortment of tasks. One of these would have to be hobbies like arts and crafts. But it's also built to be able to hold a laptop computer so that you can get work done or stay in touch with social networks, all while sitting in a comfortable position. It's durable enough to hold many different items, and adjustable so you can have it right where you want or need it.
See our full review of the Table Mate.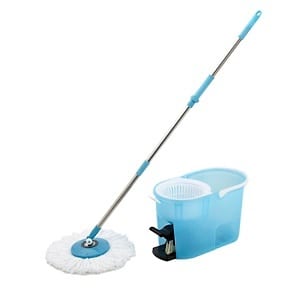 Hurricane Spin Mop
The Hurricane Spin Mop promises that you won't have to do the messy and strenuous task of wringing out your mop when it is time. It accomplishes this by spinning the mop head around and around, using centrifugal force to whip the water out of it. What you're left with is a relatively dry mop head that is ready to soak up some more mess. Since you're not stooped over the mop trying your best to wring it out, you'll finish the job with energy to spare.
See our full review of the Hurricane Spin Mop.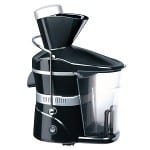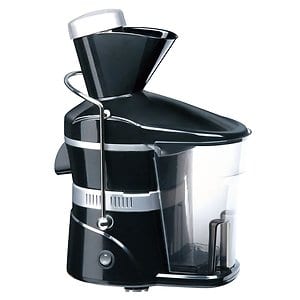 PowerGrind Juicer
The PowerGrind Juicer is designed to grind through most anything, and a few of the claims is that you can make almond milk and soy milk with it. That's how finely they say this grinds things up. Talk about overkill. But really when it comes to juicers it's all about power, so you want something that Tim Taylor would grunt at. With all of this power comes great responsibility, so make sure that you are putting healthy foods in it so you get the most out of your juicer. The feedback on this can't be denied, it's winner!
See our full review of the PowerGrind Juicer.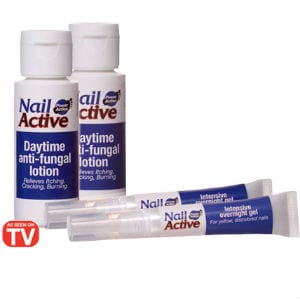 Nail Active
Nail Active is a way to help with your nail fungus, both in how it looks and the underlying problem of trying to kill the fungus. Seems like a strange product to be advertising on TV, but this just shows that it's a common problem that a lot of people would have. The thing is that most of the solutions out there focus on only one aspect of a two-headed problem. You need to be able to both improve the appearance, and have an effective antifungal, which this does. It's one of the few kits we've seen that has both products in one.
See our full review of the Nail Active.


Mighty Mendit
Mighty Mendit is a product that was pitched by Billy Mays, one of the legends when it comes to people barking features at you on the television. The concept is that it can fix your clothes quickly and easily without the need to use a needle and thread and sew them up. You could use it to make a hem in a pair of pants, or fix a torn pocket. The way it works is that it's a special adhesive that bonds to the fibers of your clothes. This means that when it attaches, it won't detach so you can feel secure with the fix.
See our full review of the Mighty Mendit.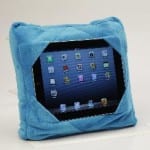 GoGo Pillow
The GoGo Pillow is designed to give your tablet or other electronic device a home while you're relaxing at home or traveling in the car. It serves the dual purpose of protecting the device, but also making it more comfortable for you to hold onto it. It really is simply a pillow for your electronics, but it has a few features that make it better, including the ability to hold devices of various sizes, and also to keep them in place even if you knock the pillow around. The pillow design means it's super comfy and good for longer periods of use.
See our full review of the GoGo Pillow.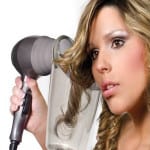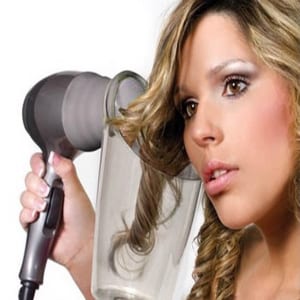 Air Curler
The Air Curler might look like a joke when you first see it in action, but this is the real thing. It is using the same technique that they use to make cotton candy, causing your hair to circle around in a sort of turbine, and come out looking curled and not frazzled. At first it looks as if you're simply putting your hair in a bucket with a blow drier attached to it. But when you explore it further you notice that it is all specially designed so that your hair won't be tangled, but instead will come out curled.
See our full review of the Air Curler.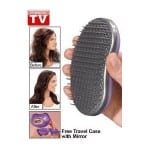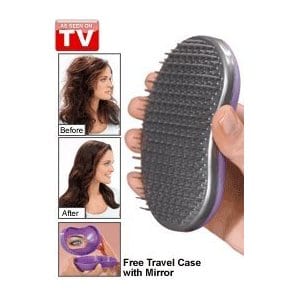 Hair Bean
The Hair Bean is shaped like a bean, which is where it gets its name, but its function is to go through your hair eliminating snags and tangles as it does so. When you're using it you might notice that it does pull the hair a bit, but not the same way that a brush or a comb does. It pulls it, but only to the point where you're like, OK stop pulling, and then it glides the rest of the way through. Unlike a comb it won't simply get stuck and make you go back the other way, it will continue on and leave your hair smooth.
See our full review of the Hair Bean.


Bacon Wave
The Bacon Wave is one As Seen on TV product that doesn't look like much when you first see it, and is something you're probably skeptical about trying. C'mon, there's no way to get good tasting bacon from the microwave, is there? But really, after we tried this out in our test kitchen we were surprised. It keeps the bacon out of its own fat, cooks it up crispy and light, and makes it taste good. It's a less guilty way to enjoy bacon fast and without the splatters. If you like your bacon crispy and not chewy, this is worth getting.
See our full review of the Bacon Wave.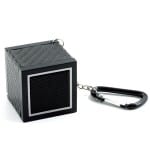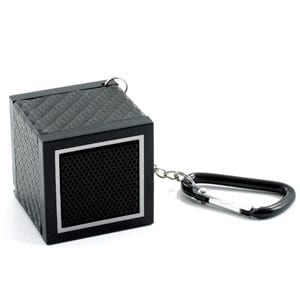 Boom Cube
The Boom Cube is a tiny one inch by one inch speaker that you can affix to your portable device for some instant audio improvement. It's just one of many portable speakers that have flooded the marketplace in recent years, and it tries to solve the problem of lousy audio in devices like smartphones, tablets, and keyboards. In time we won't need things like this because the audio in these devices keeps improving, but for now this little cub is all you need for an quick and cheap fix.
See our full review of the Boom Cube.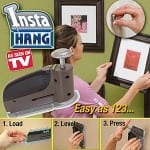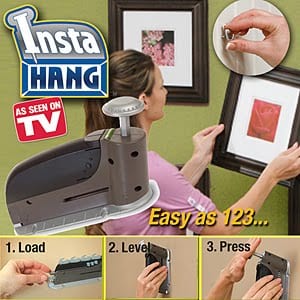 Instahang
The Instahang system allows you to quickly hang up things like picture frames, and posters with one quick pop. Unlike a hammer and nails system this does it all with one quick motion. This means you can quickly and easily hang things that you've been dragging your feet on, and it won't mess up your walls or cost you your deposit if you're renting. This is the perfect system for those that don't really like the idea of using a hammer and nails, or a drill and screws, and just want something fast and easy.
See our full review of the Instahang.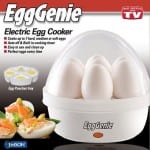 Egg Genie
After reviewing a ton of egg cookers, we settled on the Egg Genie as one of our favorites. We didn't have much hope for it at first, because it didn't look like it could do the job. But a common theme you'll see on this page is that sometimes the simplest ideas are the ones that work the best. Any unit that uses the microwave as a means to cook food automatically gets our skepticism because of all the microwave flops that abound. But this one actually does a really decent job in short order.
See our full review of the Egg Genie.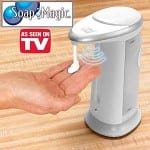 Soap Magic
Soap Magic is a way to get an automatic soap dispenser like the kinds you see at airport bathrooms in your own home. This allows you to be more sanitary within your home, and also frees up the need to use your hand to get some soap, which comes in handy when your hands are a mess and you don't want to touch anything before washing them. You can also put moisturizing lotion in it so you can get the perfect amount of lotion squeezed right into your hand without getting it all greasy or messy.
See our full review of the Soap Magic.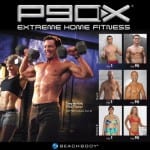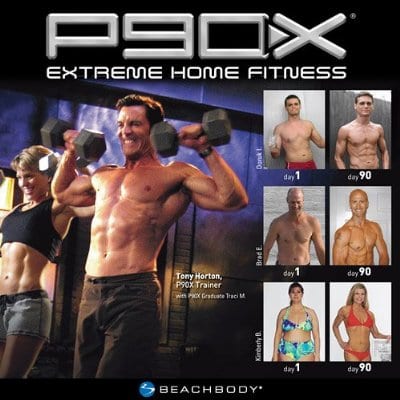 P90X
The P90X system can be credited with giving rise to the latest craze of intense workouts that put you through a 90 day training session and result in an overhauled body by day 90. The system is actually a follow up to Power 90, and has spawned a ton of other copycats, it's own sequel P90X2, as well as Insanity and Asylum that are from the same company, but feature a different host and a different approach to the same goal.
See our full review of the P90X.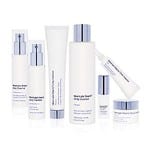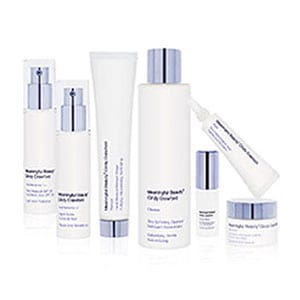 Meaningful Beauty
You may have seen the Meaningful Beauty commercials on TV. They're the ones with Cindy Crawford crediting the system with how she's been able to keep her looks over the years. Using all of their products in conjunction with each other seems to provide decent results according to the majority of users. Although you might have more success by buying individual products designed for a specific purpose, it's sometimes easier to get it all in one package for daily use. Maybe it is what Cindy uses, and maybe it's not but you can always play it safe.
See our full review of the Meaningful Beauty.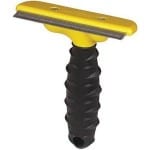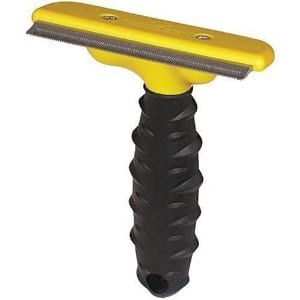 FURminator
The FURminator is our favorite pet brush because it's worked the best out of all the ones we've tried. It does a great job of getting at the undercoat, which can come in handy big time during the summer heat when your pet starts to leaves clumps of hair all over the house. If you can get to that undercoat first, you can groom them all in one go, and you'll notice that you'll find less hair stuck to furniture, or in your mouth, or your food. It makes a big difference and your pet will thank you. This can be used on both dogs and cats but seems to work best on dogs with big shedding problems.
See our full review of the FURminator.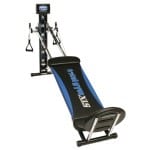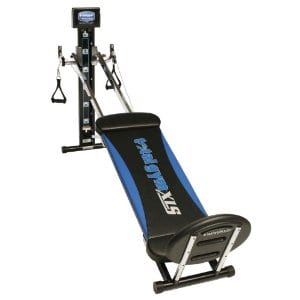 Total Gym
The Total Gym is set up so that you are using your own body weight in order to perform the exercises, and you can also adjust it so you're getting more weight than that if you need it. Because of all of the different angles and positions you can put this into, you can get a full body workout, covering all of the major muscle groups, as well as zeroing in on some of the finer ones. You may recognize their ads because Chuck Norris is one of their spokespeople. He's been showing it off for years, even during its early incarnations.
See our full review of the Total Gym.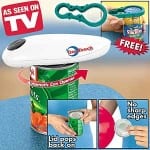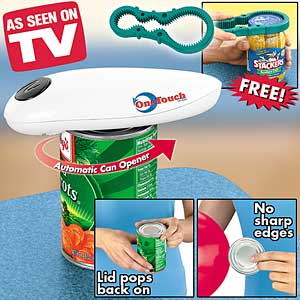 One Touch Can Opener
The One Touch Can Opener performed flawlessly for us, and we were actually a bit surprised. It goes all around the outside of the can all by itself. It knows when to stop, but perhaps more impressively it knows when to start. It won't even turn on unless it's actually atop a can. Once it's made its full circuit it will power off and rest on top of the can. When you take it off the lid of the can will be stuck via a magnet to the gadget. You simply disengage the lid and it falls harmlessly and cleanly into the trash.
See our full review of the One Touch Can Opener.

Well there you have it, 30 As Seen on TV products that you might have written off once you saw them, but that actually work the way they're shown to. As always, we'll stay on the lookout for new products that hit the airwaves so that we can bring you the best of the best, while steering you away from the worst of the worst.