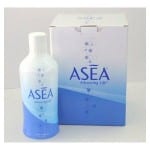 You're either wondering if Asea works as an anti-aging device or a money making opportunity. Luckily there is one answer for both questions. So does Asea really have the secret to longevity and health, as well as the next great business opportunity? Let's find out.
Overview
Asea is not the first company to come along and say that they battle free radicals. This Salt Lake City, Utah-based company is taking it to an entirely different level though. Many people have looked through all of their promotions and have asked aloud whether it's just extremely expensive salt water, and a thinly disguised Ponzi scheme.
The Claim
There are several claims made by the makers and distributors of Asea. As a product they claim that their salt water holds the key to the fountain of youth. They offer a host of vague benefits, and promise that their product will help reverse any problem you're having that is associated with aging. Just in time for the aging baby boomer population.
They call it "time in a bottle" which alludes to the fabled Fountain of Youth that Ponce de Leon searched for in vain for much of his life.
They are making a lot of fuss about something called "redox signaling" and have covered all of their bases by saying it's a new invention, and that they've cornered the market on it.
This is a classic example of modern day snake oil salesmanship. Promise that a product has a cure for all that ails you and you're sure to attract enough people that will want to learn more.
As a multi-level marketing opprotunity (MLM) they claim that they have a business opportunity that you can't afford to pass up. You can sign up as an affiliate and you have a double-sided business instantly, both selling consumers on the benefits of drinking Asea, and recruiting new affiliates to join your downline (explained in detail below).
The Hype
The hype comes from all of the affiliates out there that are populating the Internet with a lot of junk information about how great Asea is. This is the blind leading the blind and the amount of misinformation makes it really hard to find accurate data on what Asea is. Any research you can do will be cluttered by pseudo science and rhetoric either from the main Asea company or their legion of salespeople.
The Cost
The cost to buy a bottle of Asea water is $30 if you buy it by the four pack for $120 and this is only if you select to have it automatically shipped to you monthly. This is an outrageous price for a supplement, but represents the cost if you buy from an independent distributor. To make it more attractive they sell the same product at Amazon for $180, in order to entice you to seek it elsewhere for less.
The cost to become a distributor of Asea ranges from being free, to costing $25 a month for their "Pro" plan. Unlike some programs it does not appear that they make you buy the product at wholesale and resell it at a retail price. You just serve as a lead capturing service for them, and handle the marketing and customer-finding activities for the main company, collecting your commission from the sales you make.
The Commitment
If you want to take Asea, there isn't much commitment aside from drinking it down. This is all that's required, and they make no mention of changing your diet or exercising more. They pride themselves on not being a diet pill or a weight loss supplement.
If you plan on making Asea your business, you will have to commit to moving enough units of the stuff to generate a part-time or full-time income. As a sales rep for the company it is your job to get people to either become a sales rep under you, or buy and drink Asea water from you so you can get paid.
The Downline
Like any multi-level marketing you will be in someone's downline and you will have your own downline. Your real goal is to sign up as many people as you can under your downline. This means that theoretically any and all work they do will benefit you. Conversely, any and all work you do is benefiting your upline which can have any number of people in it, namely those that started the company and their closest friends.
The drawback to MLM and network marketing companies is that if you get in too late, and this is the case for the majority of people, the pool of potential customers shrinks and you're left in a saturated marketplace with no chance of big earnings. And this applies even if you have a legitimate product to sell.
In the case of Asea, sooner or later people realize it's a big sham, and you're left with nothing while the originators cash big checks on your efforts.
Evaluation
There is nothing to make one believe that Asea is nothing more than fancy saltwater. The benefits of natural sea salt are real, but you can get this from any grocery store or health food store for far less expense and hassle than dealing with an Asea representative.
The business opportunity that Asea represents is nothing new. It has been used for several decades, with similar products like Noni Juice and Herbalife. They promise ordinary people the chance to have their own business, but in many instances the distributors are the major customers for the manufacturer. Why be content selling one bottle at a time when all you have to do is sell wholesale to distributors by selling them on the American dream.
Proof that any clown with a webcam can join and promote Asea:

Final Asea Review
There will always be phony baloney products like Asea that hit the market. They are thinly veiled pyramid schemes that operate right on the fine line of what's illegal and what's legal. There is usually a really smart person at the top, that knows how to create a somewhat believable product, get it manufactured, and come up with some slick promos to attract some believers.
It is your responsiblity to pay them no mind, and no money.
Our Recommendation
Don't drink Asea and don't try to sell it either. It's just a quagmire of hopes and dreams and false promises. The only people that will tell you it's a great product are either trying to get you to drink it, or get you to sell it with them. You can even find websites out there that say it's a scam, but they are actually affiliate websites that contain links to get you to sign up as a distributor, or to buy the product as a consumer.
What do you think? Does Asea work or not?