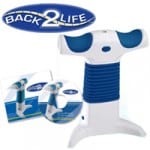 If you've ever had a bout of back pain, or have chronic back pain, a Back2Life ad would definitely grab your attention. The promise is pretty incredible: relief from back pain is just 12 minutes away. Could this really be true? Is it worth the hefty price tag? Let's find out.
Overview
Back pain effects millions of Americans each and every day, and is something that directly takes away from the quality of life. This is why there will always be a market for products of this nature, as people are always wanting to get rid of their back pain.
Unfortunately, the strong desire of many people for products like these leaves them susceptible to faulty products and wild claims. So when a product comes out with a 12 minute solution and a $200 price tag, it definitely merits further investigation.
The Claim
In just 12 minutes you can be free of back pain, by using the Back2Life system.
The Hype
Most people experience back pain at some point in their lives, and either just learn to live with it, or are always in search of the next fix. Back2Life jumps right into the mix of all the products that are out there, and aims to take some business away from chiropractors across the nation.
The hype comes from the claim of 12 minutes. Back pain usually develops gradually, and only becomes a real problem when it hurts so bad you don't want to move, or you have a back spasm and the world comes to a screeching halt.
The Cost
Back2Life retails at $200 and it is a complete system. There are no additional things to buy, and you won't be auto-billed or have things auto-shipped to you monthly.
The Commitment
You have to be the one to get down on the ground and use the Back2Life system, or you won't get any benefit at all. This may sound obvious, but many people don't realize how hard it is to start a new habit. You should commit to using it every day for 30 days. This will form the habit that you need to make it a part of your daily routine.
Only then will you be able to determine if it is working for you or not. If you use it for 12 minutes one day, and your back still hurts, it may take several sessions for you to start to notice any improvement.
Evaluation
It's not hard to use Back2Life, just adjust it to your height. It takes a little bit to get used to how it works and put it in the right position. Luckily there's a DVD that comes with it that will help you use it. Even though it's a simple design it's important to use it correctly for the best results.
If you're on the larger size you might notice that the product wobbles and the motor strains to move you. This is something that you'll have to consider before purchasing, as with long-term use it might break down on you and you'll be left with a hunk of junk for $200.
Does Back2Life Really Work?
Back2Life may offer some relief to some people that use it, but it is no more effective than other back exercises you can do at home, for free. It's basically putting you into a Static Back position, which will give relief to many people alone.
If you take 12 minutes a day to do back stretches and exercises designed to help with back pain, you will no doubt experience improvement as you string together multiple days. You don't need a $200 piece of equipment, you just need the motivation to stick to a plan.
Our Recommendation
What the Back2Life system does is puts you into what is known as a Static Back position. This position alone has been found to be enough to help many people with their back pain. You can find out if it will work for you without buying the product. Use a couch or a chair to put yourself into the same position seen on the Back2Life ads. Stay there for as long as needed for your back to feel good.
If you get benefit from being in the position alone, you may find that you don't even need to buy Back2Life, but if you think that having your legs moved around by the machine will make you feel even better, you might choose to put the money on it.
What do you think? Does Back2Life really work?